Lead the Pack Warzone Blueprint: How to Get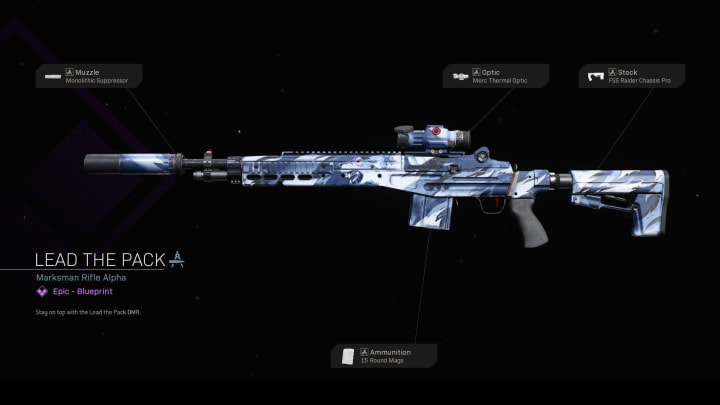 Lead the pack to victory in silence with this Warzone Blueprint. / Photo by Infinity Ward via GamesAtlas
Lead the Pack Warzone Blueprint is an Epic level Blueprint for the EBR-14 marksman rifle.
Blueprints in Call of Duty: Modern Warfare are unique weapon skins and custom builds with preset attachments. Blueprints are an excellent way for new players to get battle ready weapons as they can utilize preset attachments even if their weapon level is not high enough to unlock the attachment. Here's how to unlock this stunning skin for the EBR-14.
Lead the Pack Warzone Blueprint: How to Get
Lead the Pack is available in the Call of Duty: Modern Warfare store as part of the Sere Kit: Designated Marksman bundle for 1,200 COD Points. In addition to the EBR-14 skin players who purchase this bundle receive a FAL Punchy weapon skin, a calling card, an emblem and a rare spray.
Whether you're looking to recreate this blueprint yourself or simply curious how to unlock it; we've got you covered.
Here's the entire Lead the Pack Blueprint load out:
Muzzle: Monolithic Suppressor
Optic: Merc Thermal Optic
Stock: FSS Raider Chassis Pro
Ammunition: 15 Round Mags
If you're looking to take this weapon to Warzone swap the thermal optic for a variable zoom scope and this weapon is a long-range precision powerhouse.