League of Legends
League of Legends Patch 11.6: Full List of Champion Changes
By Max Mallow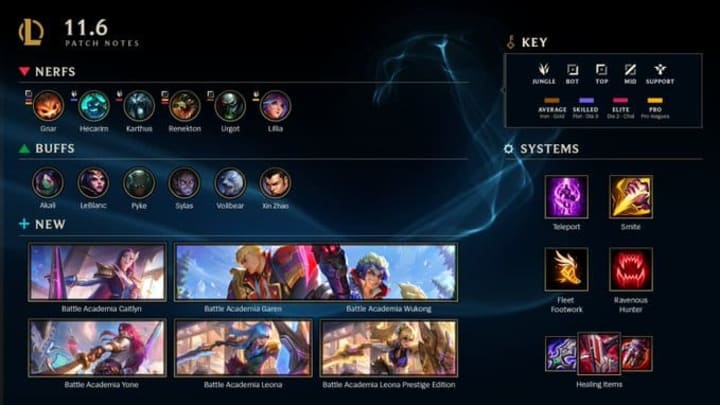 Photo by Riot Games
League of Legends Patch 11.6 notes were posted March 16 a day ahead of the patch hitting live servers.
Patch 11.6 features 12 champions receiving either buffs or nerfs alongside the Battle Academia skins entering the store. Among the notable champions to receive nerfs, Gnar, Hecarim and Urgot made the list. For buffs, Akali, Sylas and Volibear players are getting some help.
League of Legends Patch 11.6: Full List of Champion Changes
Here's a full list of the champion changes in League of Legends Patch 11.6:
Akali
Base Stats
Health decreased to 500
Health growth increased to 105
Passive - Assassin's Mark
Akali's passive no longer restores 10/15/20 energy
Q - Five Point Strike
Energy costs adjusted to 130/115/100/85/70
Five Point Strike no longer deals 25% bonus magic damage to minions and monsters
W - Twilight Shroud
Twilight Shroud now increases Akali's maximum energy by 80 (and still restores 80 energy)
E - Shuriken Flip
Total damage increased to 100/187.5/275/362.5/450 (+85% AD) (+120% AP)
Damage split between first and second hit changed to 30% of the total damange and 70% of the total damage
R - Perfect Execution
First dash damage type changed to magic
First dash damage changed to 80/220/360 (+50% bonus AD)(+30% AP)
Gnar
W - Hyper
Bonus base damage decreased to 0/10/20/30/40
Hecarim
Q - Rampage
Base damage decreased to 60/97/134/171/208
Karthus
Q - Lay Waste
Base damage decreased to 45/62.5/80/97.5/115 (90/125/160/195/230)
LeBlanc
W - Distortion
Cost decreased to 60/70/80/90/100 mana
Lillia
R - Lilting Lullaby
Cooldown increased to 150/130/110 seconds
Pyke
E - Phantom Undertow
Cooldown now decreases on a scale of 15/14/13/12/11 seconds
Renekton
R - Dominus
Bonus health decreased to 250/400/550
Sylas
Passive - Petricite Burst
Unshackled bonus attack speed increased to 125%
W - Kingslayer
Cooldown decreased to 13/11.25/9.5/7.75/6 seconds
Cost decreased to 60/70/80/90/100 mana
Heal ration decreased to 45% AP
Urgot
W - Purge
On-hit damage effectiveness decreased to 50%
Volibear
W - Frenzied Maul
Healing from Wounded monsters is no longer halved (still reduced against minions)
E - Sky Splitter
Capped damage changed to 750 at all ranks
Xin Zhao
Passive - Determination
Heal changed to 7-92 (levels 1-18)
Heal AP ratio increased to 55%
Xin Zhao now correctly consumes the passive heal stacks after basic attacking an enemy shortly after casting his W
Q - Three Talon Strike
Bonus base damage changed to 16/25/34/43/52
W - Wind Becomes Lightning
Cooldown decreased to 12/10.5/9/7.5/6 seconds
Cost increased to 60 mana
Reduced damage against minions changed to 50% - 0% (levels 1-16)
Slash cast time changed to 0.5 seconds
Thrust's damage now increases by up to 33% based on critical strike change
Thrust range increased to 1,000
Thrust missile speed increased to 6,250
Thrust now Challenges enemy champions and monsters and reveals them for three seconds
Hitbox now extends slightly behind Xin Zhao for visual clarity
Thrust damage ratio of 50% AP added
E - Audacious Charge
Audacious Charge's cast range increased to 1,100 on Challenged enemies
R - Crescent Guard
Damage ratio is now 100% AD and 110% AP
For more information on Patch 11.6, check out the notes here.