League of Legends
League of Legends Patch 11.7: Full List of Champion Balance Changes
By Max Mallow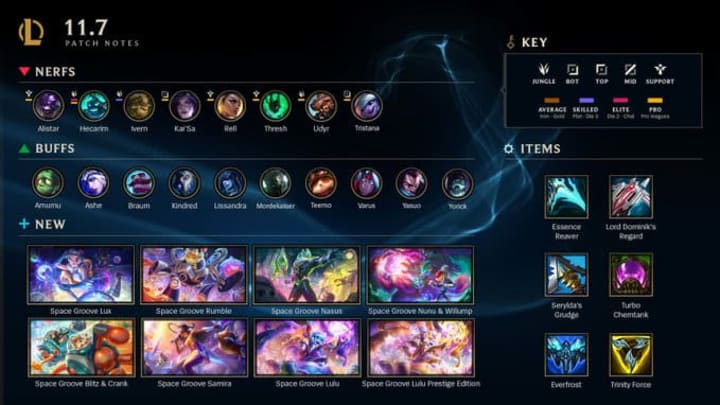 Photo by Riot Games
League of Legends Patch 11.7 notes were released March 30 headlined by 18 champions receiving balance changes.
Of the 18, eight received nerfs while 10 were buffed. Patch 11.7 also introduces the Space Groove skin line for Lux, Rumble, Nasus, Nunu & Willump, Blitzcrank, Samira and Lulu. Here's a full list of the champion balance changes in League of Legends Patch 11.7.
League of Legends Patch 11.7: Full List of Champion Balance Changes
Alistar
Q - Pulverize
Base Damage nerfed to 60/100/140/180/220
E - Trample
Empowered basic attack nerfed to 20-275 (levels 1-18) bonus magic damage
Amumu
Q - Bandage Toss
Cost reduced to 30/35/40/45/50 mana
E - Tantrum
Cooldown decreased to 9/8/7/6/5 seconds
Ashe
R - Enchanted Crystal Arrow
Cooldown decreased to 100/80/60 seconds
Braum
E - Unbreakable
Cooldown decreased to 16/14/12/10/8 seconds
R - Glacial Fissure
Maximum knock up duration increased to 1/1.5/2 seconds
Hecarim
E - Devastating Charge
Bonus movement speed decreased to 25-65% (based on time active)
Ivern
E - Triggerseed
Base damage decreased to 70/90/110/130/150
Kai'Sa
R - Killer Instinct
Cooldown increased early to 130/100/70 seconds
Kindred
Q - Dance of Arrows
Bonus damage ratio increased to 75% AD
E - Mounting Dread
Cooldown decreased to 14/13/12/11/10 seconds
Lissandra
Q - Ice Shard
Base damage increased to 80/110/140/170/200
Mordekaiser
Q - Obliterate
Isolated enemy damage increased to 40/45/50/55/60%
Rell
E - Attract and Repel
Stun duration decreased to 0.5 seconds
Teemo
Passive - Guerilla Warfare
Element of surprise duration increased to five seconds of bonus attack speed
E - Toxic Shot
On-hit base damage increased to 11/22/33/44/55
Thresh
W - Dark Passage
Base shield decreased to 60/90/120/150/180
Tristana
Base Stats
Attack damage decreased to 59
Udyr
Base Stats
Attack damage decreased to 64
Varus
Base Stats
AD growth increased to 3.4
Yasuo
Base Stats
Yorick
E - Mourning Mist
Wake Me Up Inside (Can't Wake Up) [NEW]: Marked enemy champions and large monsters now continuously Awaken nearby graves (up to 4 max.)
You Will Be Mist [NEW]: Mist Walkers now deal 200% damage when they leap to marked enemy champions and large monsters
Cast Paradigm [UPDATED]: If targeting outside of range, E now immediately casts to max range
League of Legends Patch 11.7 goes live March 31.