Call of Duty
Leaker Reveals First Vanguard Weapon Mastery Camo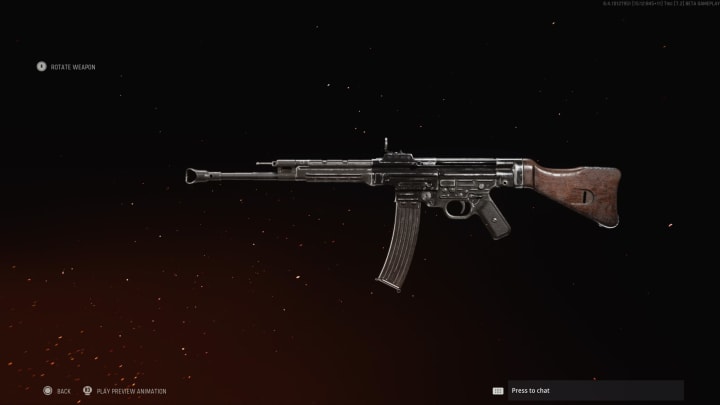 Photo courtesy of Activision
Call of Duty leaker TheGhostOfMW has posted the first weapon mastery camo of Vanguard. Mastery camo is one of the best ways for players to show off in-game and it's one of the most sought-after cosmetics when the game goes live. Players can earn these in normal multiplayer or even while grinding zombies.
As you can see from the leak, a red design for the STG44 Assault Rifle is making its way around social media. It's hard to tell how the camo will be presented in-game or not in the Weaponsmith. It seems like the camo covers most of the gun.
For those who wish, starting on Oct. 28, Call of Duty: Vanguard pre-loading has begun for those on console, while those on PC will be able to do so on Nov. 2. Activision released a massive roadmap previewing the next installment in the series. They even listed out some of the content at launch.
Fan-favorite Multiplayer map Shipment returns Nov. 17
Access to free Vanguard Tiers on the Black Ops Cold War Season Six Battle Pass System continues
Operation: Flashback begins in Warzone on Nov. 18 — an encore limited-time mode for Verdansk, celebrating its past 18 months of hosting over 100 million players strong in Warzone with two unique awards up for grabs
On Nov. 24, fans can get intel on Vanguard's new Warzone map, based in the Pacific on an entirely new island called Caldera, via Warzone and Vanguard limited-time multiplayer challenges entitled "Secrets of the Pacific"
On Nov. 30 and Dec. 1, players can see what happens to Verdansk before Warzone goes dark to prepare for Caldera and Season One
When the game launches, you can begin your grind for the notorious mastery camos.