League of Legends
LEC Announces On-Air Talent Lineup for Spring 2022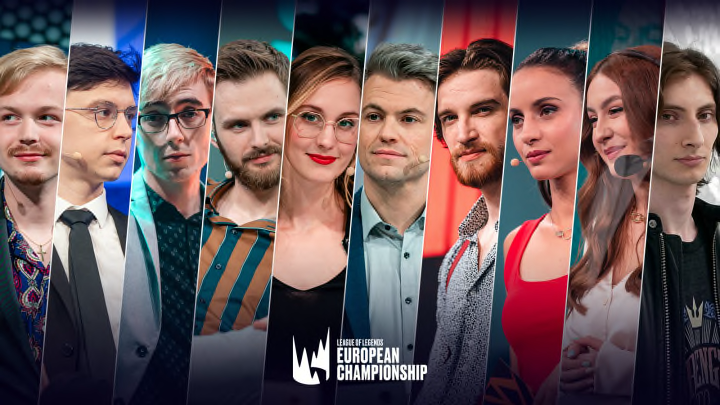 "Veteran favourites will be joined by new talent on the broadcast this year to cover all the action of LEC Spring 2022." / Image courtesy of LEC
With the League of Legends European Championship (LEC) set to return to action this Friday, Riot Games and co. have announced the list of names making up the team of hosts, casters, and analysts that will be featured on the broadcasts for Spring 2022.
Here's a breakdown of the LEC's broadcast team for the upcoming split set to run for the next four months.
Eefje "Sjokz" Depoortere (Desk Host)
Laure "Bulii" Valée (Interviewer)
Trevor "Quickshot" Henry (Play-by-Play Caster)
Daniel "Drakos" Drakos (Play-by-Play Caster)
Aaron "Medic" Chamberlain (Play-by-Play Caster)
Marc "Caedrel" Lamont (Color Caster)
Andrew "Vedius" Day (Color Caster)
Mikkel "Guldborg" Guldborg (Color Caster)
Georgia "Troubleinc" Paraskevopoulou (Regular Guest)
Alex "Nymaera" Hapgood (Regular Guest)
Robert "Dagda" Price (Regular Guest)
Oisín Molloy (Regular Guest)
As seen in the announcement's cover photo and list of names, plenty of the broadcast's mainstay faces will thankfully be returning this year for the upcoming games.
Due to personal reasons, Sjokz will be missing Week 1 for now.
Caedrel's name being is here is a pretty welcome surprise for viewers considering there was plenty of rumors and speculation going around regarding his future over the offseason. Along with Medic, Caedrel is slated to be a guest commentator for the new Ligue Française de League of Legends (LFL) English broadcast as well.
Meanwhile, Guldborg and Troubleinc will be making their returns to the airwaves for LEC after being invited on as guests last summer. The two are also slated to be active on the Northern League of Legends Championship (NLC) broadcast side of things.
To round out the lineup for now, Nymaera, who is also featured as a talent in the NLC, is set to be a new face for the LEC broadcast while English-language League of Legends Pro League (LPL) casters Dagda and Oisín will be joining on as well.
The LEC will kick off its Spring 2022 schedule remotely on Friday, Jan. 14.