Lizard King Warzone Blueprint: How to Get the AUG Blueprint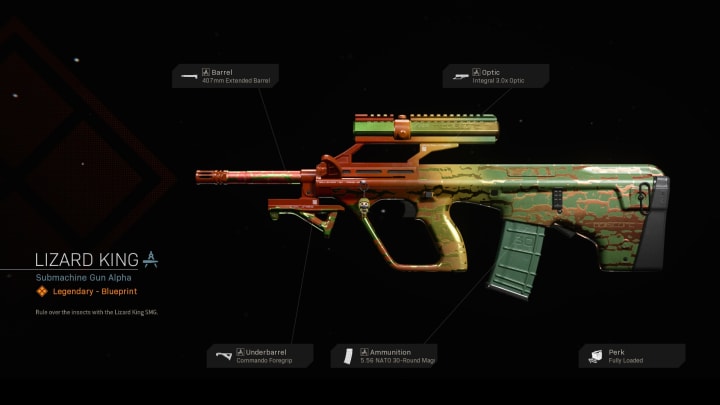 The Lizard King Warzone Blueprint is one of Season 4's newest legendary blueprint variants for the AUG sub-machine gun. / Photo by Infinity Ward via GamesAtlas
The Lizard King Warzone Blueprint is one of Season 4's newest legendary blueprint variants for the AUG sub-machine gun.
Blueprints let players use weapons or weapon attachments they might not have unlocked yet. Plus, most blueprints (Lizard King included), come with a nice skin to accompany the weapon and give it a little more flair. The Lizard King, in particular, comes with a chameleon-esque skin that has a slight gradient effect from red to green across the skin.
Lizard King Warzone Blueprint: How to Get the AUG Blueprint
The Lizard King Warzone blueprint can be purchased from the COD Store as a part of the Bog Demon bundle for 1,800 COD Points. The bundle also includes a legendary operator skin called "The Creature", an epic watch, calling card, emblem, and weapon charm. As it's a legendary skin, it comes with five attachments (four attachments and one perk in this case.)
Barrel: 407mm Extended Barrel
Optic: Integral 3.0x Optic
Underbarrel: Commando Foregrip
Ammunition: 5.56 NATO 30-Round Mags
Perk: Fully Loaded
The AUG already has pretty solid range and accuracy for a sub-machine gun, but the two stats are improved drastically with this blueprint. The weapon's damage also sees a large increase, but at the cost of mobility and fire rate. The fully loaded perk also causes the weapon to spawn with full ammo, so you don't need to hunt for ammo if you parachute onto a loadout drop after coming out of the Gulag.