FIFA
Lorenzo Insigne FIFA 22: How to Complete the Numbers Up SBC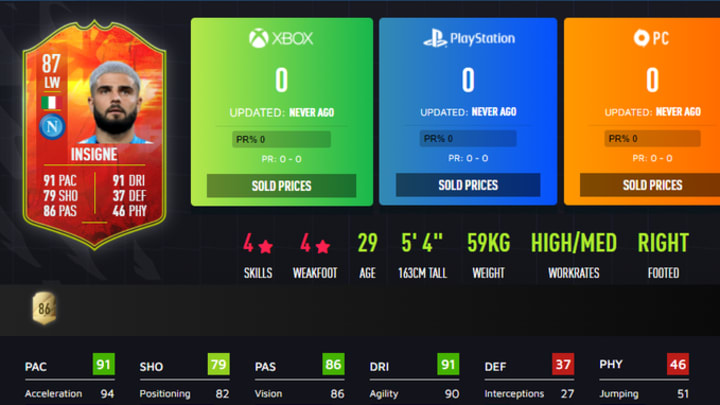 Photo by FUTWIZ
Lorenzo Insigne FIFA 22 Numbers Up SBC went live Nov. 16 as the newest piece of content for the Adidas promotion.
FIFA 22 Numbers Up is a new promotion to Ultimate Team this year in collaboration with Adidas. The promotion celebrates Adidas sponsored athletes and the specific boots they wear in real life. Those players received specific boosts based on those boots. The downside of the promotion is that the 99 boost each player is set to receive won't go live until April 2022. Also, some of the player selections were criticized by the player base.
Lorenzo Insigne FIFA 22: How to Complete the Numbers Up SBC
Here's how to complete the Numbers Up Insigne SBC in FIFA 22:
Segment 1
# of Players from Italy: Min. 1
Team of the Week Players: Min. 1
Squad Rating: 84
Team Chemistry: 75
# of Players in the Squad: 11
REWARD: Small Prime Gold Players Pack
Segment 2
# of Players from Serie A TIM: Min. 1
Squad Rating: 85
Team Chemistry: 70
# of Players in the Squad: 11
REWARD: Prime Electrum Players Pack
Pace is the statistic that will go to 99 eventually, but it's yet another left winger from the Serie A. Other items like Flashback Pedro, Road to the Knockouts Stephan El Shaarawy and in-form Hirving Lozano are already strong items in the position.
It'll be up to the player's discretion for whether or not they'll want to complete this item.