Lost Ark Neugier Gold Mount: How to Get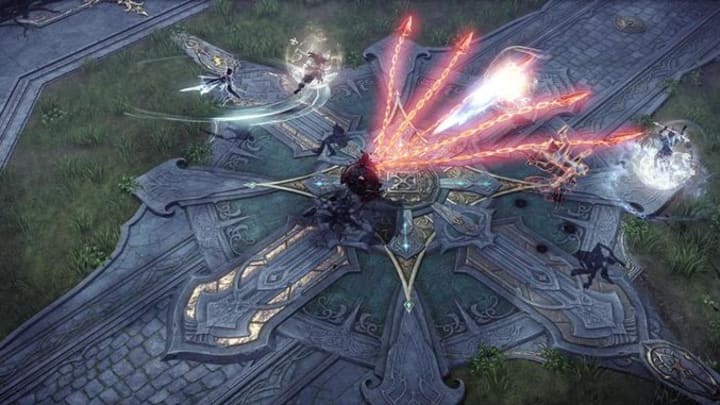 Photo by Smilegate
Lost Ark Neugier Gold Mount is the final Twitch drop reward for the Legends of Lost Ark promotion taking place in celebration of the game's eastern launch.
Lost Ark is a MMOARPG developed by Smilegate that's finally arrived in Europe, North America and Latin America. As part of the release, Smilegate and Amazon Game Studios is running a promotion, Legends of Lost Ark, in which special rewards are made available via Twitch drops. The rewards are broken down into a points system which three teams earn progress toward by completing objectives in the game.
The final reward, which has yet to be unlocked, is the Neugier Gold Mount. This reward follows a starter chest, a Saphia Pet Chest, an Arkesia Paper Hat Chest and a Helgaia Pet Chest.
Here's how to claim the reward once it is made available.
Lost Ark Neugier Gold Mount: How to Get
As mentioned, the Legends of Lost Ark campaign is broken down into three region-based teams. The teams are as follows:
Team Elgasia - Europe
Team Petrania - Latin America
Team Arkesia - North America
Each team has a list of 20 streamers that are progressing toward goals. As of writing, Team Elgasia is the closest to the Neugier Gold Mount which is unlocked at 18,000 points. Team Elgasia sits at 16,200 points. Once a team unlocks the reward, players will have to watch a streamer with Drops Enabled for four hours to unlock the skin. Once it is available to claim in the Twitch Inventory, players will have to add it and then redeem it in Lost Ark.
For a breakdown of the streamers per team, check out the link here.
Check back to see when a team hits the point threshold for the Neugier Gold Mount.
---
UPDATE (2/15 10:02 a.m. ET): The Lost Ark Neugier Gold Mount is available now to earn via Team Elgasia streamers.