Luis Diaz FIFA 20: How to Complete the TOTSSF SBC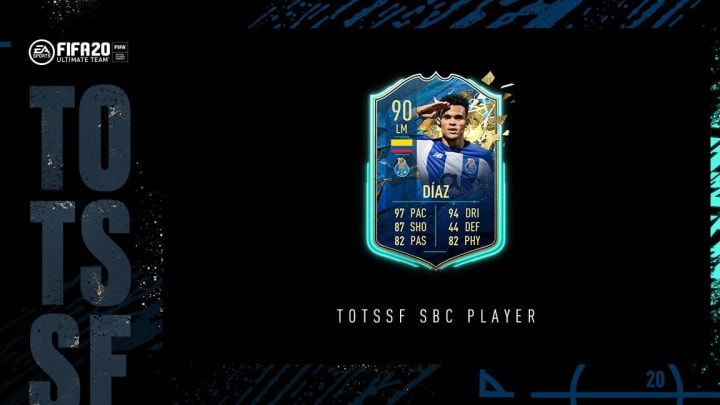 Luis Diaz received a TOTSSF SBC for Liga NOS on Monday in FIFA 20. / Photo by EA Sports
Luis Diaz FIFA 20 Team of the Season So Far SBC went live Monday as Liga NOS players were added to packs and menu content.
FIFA 20 TOTSSF is the biggest promotion of the year in terms of overall content added. Multiple leagues receive special cards representing the best players from their respective seasons. Minor leagues are released each Monday with Liga NOS being the most recent league to enter packs.
FC Porto's Luis Diaz received a TOTSSF Squad Building Challenge to commemorate the league being released.
Luis Diaz FIFA 20: How to Complete the TOTSSF SBC
Here's how to complete the FIFA 20 TOTSSF Luis Diaz SBC:
One Segment
# of Players from Liga NOS: Min. 1
Squad Rating: 84
Team Chemistry: 75
# of Players in the Squad: 11
TOTSSF Luis Diaz is coming in around 47,000 coins to complete from scratch. Positives about the card include strong pace and dribbling along with decent shooting and passing. The right chemistry style will make Diaz a strong card in attack. The card also has four star skills and weak foot meaning he's on the cusp of being meta outside of links.
TOTSSF Diaz expires Thursday, May 21 at 1 p.m. ET. EA Sports also released a TOTSSF Jeremy Mathieu in objectives available for a full week.