Luis Diaz FIFA 23: How to Complete the FUT Ballers SBC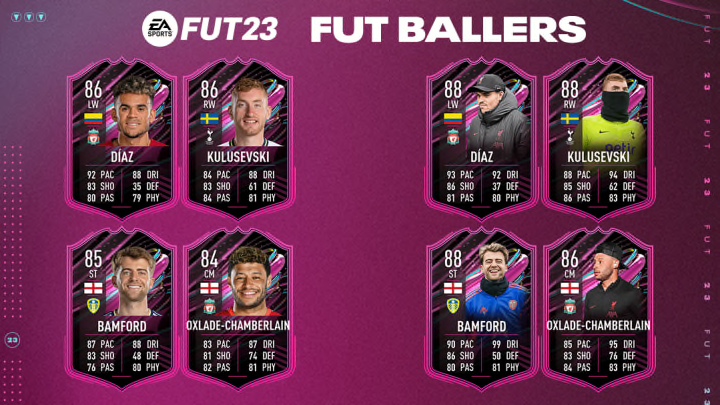 EA Sports
Luis Diaz FIFA 23 FUT Ballers SBC went live Mar. 17 as part of a brand new Ultimate Team promotion.
Unlike most FIFA Ultimate Team promotions, FUT Ballers only features SBC and objective promotional items. There aren't any FUT Ballers in packs. Cards receive upgrades as SBCs and then players can earn upgraded versions of those players by completing in-game objectives as part of the promotion. There will be daily SBC players as well for players to earn.
Luis Diaz FIFA 23: How to Complete the FUT Ballers SBC
Here's how to complete the FIFA 23 FUT Ballers Luis Diaz SBC:
One Segment
Liverpool Players: Min. 1
Squad Rating: 83
No Chemistry Requirement
Players in the Squad: 11
REWARD: 86 OVR FUT Ballers Luis Diaz
After completing the SBC, players can go to the Play to Style objective set and complete Ball With Luis to earn an 88 OVR FUT Ballers Luis Diaz. The objective requires players to score a Finesse goal with the 86 Diaz in five separate matches in Squad Battles on min. Semi-Pro difficulty or Rivals. An exciting, fresh promotion that shouldn't be too difficult to earn all available cards.
As well, the upcoming FUT Ballers cards are identifiable through the Play to Style objective set:
Patrick Bamford
Dejan Kulusevski
Alex Oxlade-Chamberlain
Jack Grealish
Noni Madueke
Ederson
FUT Ballers SBCs and objectives will unlock each day through Mar. 23.