Luka Jović FIFA 20: How to Complete the Summer Heat SBC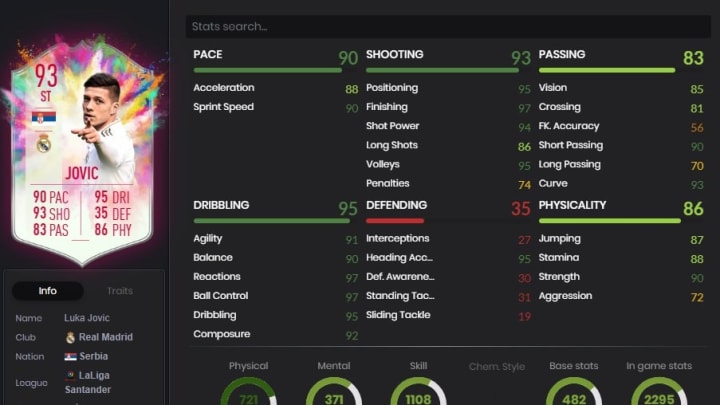 Luka Jović is FIFA 20's next Summer Heat SBC. / Courtesy of FUTBIN
Luka Jović is FIFA 20's latest Summer Heat Squad Building Challenge reward, giving FIFA 20 players a new card to work toward. Here's what you need to know to complete the SBC and add this card to your Ultimate Team collection.
Luka Jović FIFA 20: How to Complete the Summer Heat SBC
Serbian Real Madrid striker Luka Jović shines brightest when it comes to his dribbling. That stat is the highlight of his FIFA 20 Summer Heat SBC card. Here are the rest of its stats:
Overall: 93
Pace: 90
Shooting: 93
Passing: 83
Dribbling: 95
Defense: 35
Physicality: 86
To complete the SBC and earn the card for yourself, you'll need to make teams that meet the following criteria.
Segment 1
Numbers of players from Real Madrid: Minimum 1
Squad Rating: Minimum 84
Team Chemistry: Minimum 75
Number of players in the squad: 11
Reward: 1 Prime Electrum Players Pack
Segment 2
Number of players from LaLiga Santander: Minimum 1
TOTSSF, TOTW or TOTW Moments: Minimum 1
Squad Rating: Minimum 86
Team Chemistry: Minimum 70
Number of players in the squad: 11
Reward: 1 Premium Gold Players Pack