Machamp Best Moveset Pokemon GO: Moves to Prioritize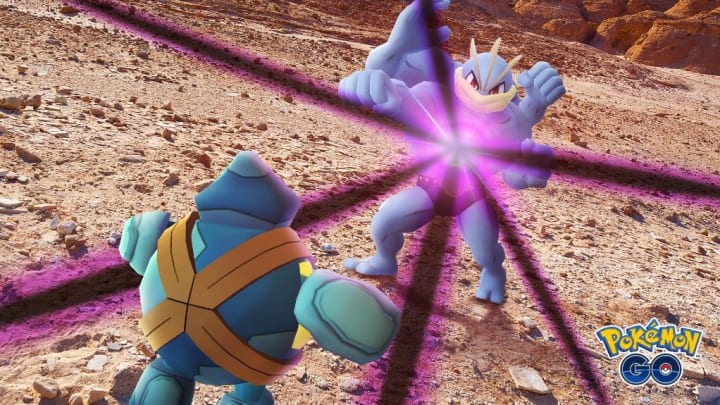 Machamp, the fighting-type powerhouse, has a few options for its best moveset in Pokemon GO. / Niantic Labs
Machamp, the fighting-type powerhouse, has a few options for its best moveset in Pokemon GO.
Niantic Labs released its first batch of Pokemon upon the release of Pokemon GO in July 2016. Among these exclusively Kanto creatures was the Machop evolutionary family—including Machoke and Machamp. This line quickly rose in popularity as the primary choice among fighting-type offensive choices. Obviously, this means trainers have had quite some time to work out their best moveset.
Machop was the star of this month's Community Day event on Jan. 16.
Machamp Best Moveset Pokemon GO
Machamp is a pure fighting-type from the first generation, hailing from the Kanto region. Though it now has competition for the top spot in its type-division from the likes of Sinnoh's Lucario and Unova's Conkeldurr, trainers still rely on Machamp for its accessibility and power.
The best moveset for Machamp includes the quick move Counter and the charged move Dynamic Punch. However, the Elite TM quick move Karate Chop and the charged move Close Combat are decent substitutes. These are common combinations with most premiere fighting-types.
This is likely an unfortunate revelation for those who chose to evolve their Machop or Machoke during the January 2021 Community Day. Payback may be a powerful move but rarely cracks the top five choices for trainers in both gym battles and PvP, alike.
Despite its primary debut on launch, Machamp didn't receive a shiny form until the Battle Showdown 2019 event on Mar. 5. Its shadow form was released in association with the Team GO Rocket event on July 10, 2020. It has a PokeDex number of 68 and is best known for being able to hurl just about anything great distances.
Trainers can evolve their Machoke into a Machamp using 100 candies or trading it to a friend for free.