Madden 23 Week 9 Roster Update: Notable Changes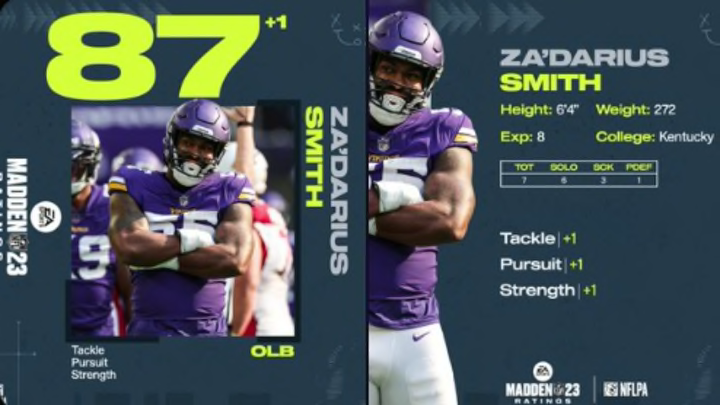 Madden 23 Week 9 Roster Update / EA
EA Sports updates NFL game, Madden 23, every week to ensure the roster is up to date. The update for Week 9 of the NFL season is already available.
A lot of players saw their rating change, some for the better and some for the worse. Za'Darius Smith for example saw his rating increasing from 86 overall to an 87 overall. With so many players in the league, let's go over some of the top increases and decreases for league stars.
Madden 23 Week 9 Roster Update
Notable Rating Increases
Dalvin Cook: +1 to 94 Overall
A.J. Brown: +1 to 91 Overall
Derrick Brown: +2 to 84 Overall
Amari Cooper: +1 to 90 Overall
Justin Simmons: +1 to 92 Overall
Notable Rating Decreases
Jonathan TaylorL -1 to 93 Overall
Roquan Smith: -1 to 90 Overall
Adam Thielen: -1 to 87 Overall
Tom Brady: -1 to 93 Overall
Julio Jones: -1 to 80 Overall
Tom Brady has seen his rating change drastically throughout the season due to Tampa Bay's underwhelming year up to this point. Maybe a win from this weekend can help change that for the better.
Another interesting player change has to be Julio Jones who signed with the Tampa Bay Buccaneers this offseason. This season Jones has had just eight receptions for 125 yards and a single touchdown. His rating has dropped from his initial 83 overall rating to now an 80 overall.
If fans have not yet grabbed a copy of Madden 23, the perfect time could be coming up with Black Friday Deals already being announced.