Madden 24 Combine Interview Answers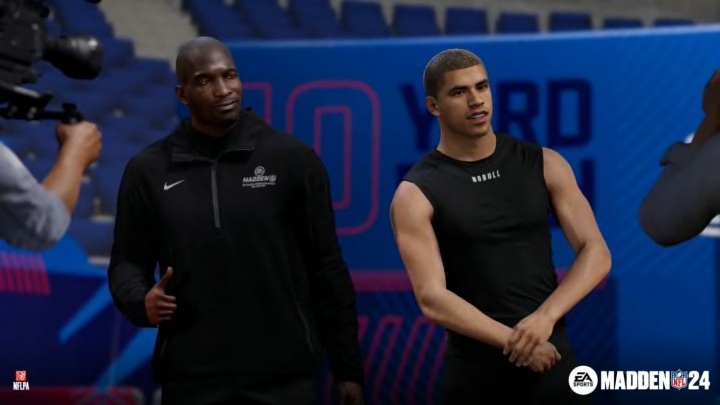 We have all the Madden 24 Combine Interview answers. / EA Sports
Players will need all the Madden 24 Combine Interview answers to boost their Draft Stock in Madden 24's Superstar Mode.
Superstar Mode is back in Madden 24 and takes players through their own personalized journey into the NFL, starting with the Combine. Depending on what position you choose (QB, RB, WR, LB or CB), your avatar will excel at certain Combine drills like the 40-yard dash, bench press, broad jump, and 3-cone shuttle.
The last step of the Combine is an interview that can make or break your Draft Stock. The interview consists of ten multiple choice NFL trivia answers that are time sensitive. The short quiz cannot be retaken, and you cannot change your answers. Some of the questions are straightforward, but others require some quick math and record-breaking statistics you might not know off the top of your head.
Here's a breakdown of all the Madden 24 Combine Interview answers.
Madden 24 Combine Interview Answers
Check out our guide to the Madden 24 Combine Interview answers so you can score a perfect 10/10 no matter which questions get thrown your way.
Adrian Peterson was beat out in a fan vote by what Hall of Fame running back to be on the cover of Madden 25's anniversary edition?: B. Sanders
Which city has never hosted a Super Bowl?: Chicago
An illegal contact penalty occurs when a defensive player makes contact with a receiver beyond how many yards?: 5 yards
Which Quarterback caught a touchdown pass on the famous "Philly Special" in the Super Bowl?: N. Foles
Number of teams in each conference + Number of points on a field goal is worth=?: 19
Which southern city has hosted a record 11 Super Bowls?: Miami
Who holds the record for the all-time leading scorer in NFL history?: A. Vinatieri
Lamar Jackson was on the cover of Madden 21. Who is the only other Baltimore Raven to appear on the cover?: R. Lewis
How many timeouts does a team get per half?: 3
Two touchdowns + two successful PAT's + one safety =: 16
How many defensive backs are on the field if the Defense is in Dime?: 6
John Madden was inducted into the Pro Football Hall of Fame in 2006. In what Ohio city is the Hall of Fame located?: Canton
"Orange Crush" was the nickname given to which team's defensive line in the 1970's?: Denver Broncos
Which of the following states is NOT home to at least two NFL teams?: Arizona
Number of teams Peyton Manning played for + Number of teams Brett Farve played for =: 6
In 2021, T.J. Watt tied what New York Giants player's record of 22.5 sacks in a single season?: M. Strahan
How many defensive backs are on the field if a Defense is in Nickel?: 5
What former Madden cover athlete did Payton Hills beat out in a fan vote to be on the cover of Madden 12?: M. Vick
Which city did Peyton Manning famously use as an audible during his tenure with the Denver Broncos?: Omaha
The trophy awarded to the team that wins the Super Bowl is named after what former NFL head coach?: V. Lombardi
Which personnel alignment indicated there are three WR's, one RB, and one TE on the field?: 11 personnel
What year was the original John Madden Football game released?: 1988
How many yards does an onside kick need to go for the kicking team to successfully recover?: 10 yards
Which of the following quarterbacks was NOT a former number one overall pick in the NFL draft?: J. Montana
Who are the only teammates who were on the cover of Madden in consecutive years?: R. Gronkowski and T. Brady
What city did the Chargers franchise play in before moving to Los Angeles, California?: San Diego
What yard line does a team attempt a 2-point conversation from?: 2-yard line
Which NFL owner famously said, "Just win, baby!"?: A. Davis
What member of the Rams "Greatest Show on Turf" team was on the cover of Madden 03?: M. Faulk
John Madden is synonymous with what Thanksgiving dish?: Turducken
Number of points a safety is worth + Number of teams that make the playoffs each season=: 16
Who did John Madden share the announce booth with for eight Super Bowls?: P. Summerall
Despite their names, what state do the New York Jets and the New York Giants play their home games in?: New Jersey
After the interview is completed, you will receive your current draft projection ahead.