Madden 24 Draft Class Glitch: How to Fix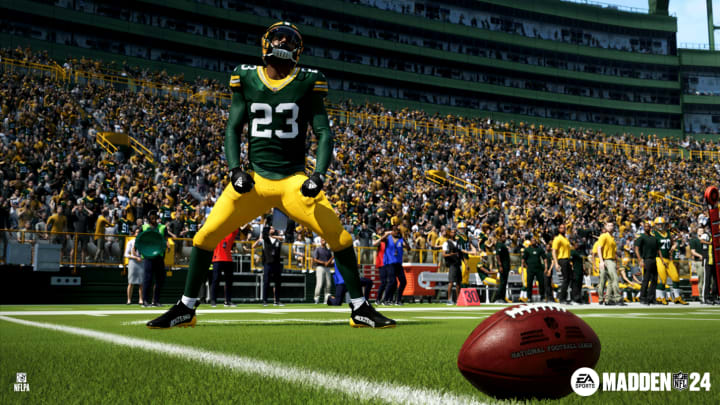 Here's how to fix the Madden 24 draft class glitch. / EA Sports
As fans explore Franchise mode in Madden 24, they have encountered a frustrating Madden 24 draft class glitch that leaves all players with the same body type.
Franchise mode received some major improvements in Madden 24. Training camp returned to give franchise owners more opportunities to improve their rosters, and weekly strategy offers greater preparation during game week. Plus, up to six draft picks can now be included in a trade, and now, there are six trade slots.
Despite the upgrades, there is a draft class glitch preventing players from getting the full Franchise mode experience. Here's a breakdown of the Madden 24 draft class glitch and how to fix it.
Madden 24 Draft Class Glitch
The Madden 24 draft class glitch causes entire draft classes to have the same body type, regardless of position. The physique slider fails to edit the appearance of a player, leaving everyone the same size in the class.
The EA Answers HQ page is full of players reporting their own experiences with the problem ever since Madden 24 early access launched last week. The post was started by user, ChuckysRatHole, when they reported, "If you go far enough in Franchise mode, ALL THE PLAYERS LOOK EXACTLY ALIKE. A 314lb lineman looks like a 240lb linebacker or a 200lb running back."
The glitch appears to be affecting players on all platforms as they try to progress and enjoy Franchise mode.
Madden 24 Draft Class Glitch: How to Fix
As of now, there is no surefire way to fix the Madden 24 draft class glitch. Until EA Sports patches the glitch permanently, players will have to get lucky either avoiding the glitch or using one of the inconsistent fixes to get rid of the draft class glitch.
One user, GameBreaker35, on the Madden 24 Forum reported the following fix: "If you enter the edit player screen, in the draft class or in roster menu, and move the weight one click to the left or right (you can move it back afterwards), the player model dramatically improves."
Another user, jboss2244, revealed on the EA Answers HQ page that players should avoid importing or downloading any draft class, as that tends to be one of the main causes of the glitch.
Hopefully EA Sports delivers a true fix to the Madden 24 draft class glitch in the coming days.