Madden 24 Relocation Teams: Full List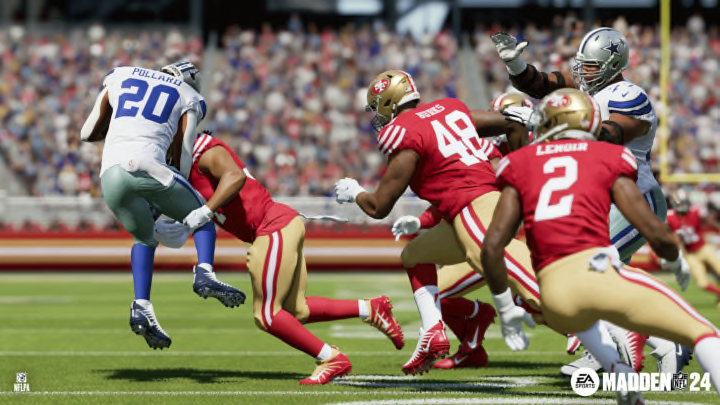 There's more freedom in the Franchise Mode of Madden NFL 24. / Electronic Arts
Franchise Mode is a beloved feature of the Madden series. The Xbox Series X|S, PlayStation 5, and PC exclusive mode has a plethora of mini-games, including Training Camp and Weekly Strategy. 
Team relocation has also returned to Franchise Mode, and it's better than ever. New cities and improved uniforms make up only part of the new features in Madden NFL 24. Continue reading to learn about all relocation teams, cities, and more.  
What are Madden 24 Relocation Teams?
Team relocation is an option in the Franchise Mode of Madden NFL 24. In it, players can choose to move their football teams to different cities.
Madden NFL 24 made several changes to team relocations. One is that players no longer have to be an owner to make the move. Being a coach gives you the power to relocate as well.
The relocation process has changed since the last game, too. You can pick a city, brand, and stadium right after you decide to relocate. Once you grow bored of a place, you can change your location again when the next season begins.
Electronic Arts also made it their mission to revamp uniforms. The latest title boasts over 90 uniforms. Madden NFL 24 lets players choose among nine new and improved uniforms per team, which is a considerable upgrade compared to previous titles. 
Madden 24 Relocation Teams
All relocation teams are listed below. The information provided in this section is from the Nerd Stash.
Antlers
Armadillos
Aviators
Black Knights
Blues
Bison
Bulls
Caps
Commanders
Condors
Desperados
Dragons
Dreadnaughts
Elks
Golden Eagles
Huskies
Lumberjacks
Monarchs
Mounties
Night Hawks
Orbits
Pioneers
Redwoods
River Hogs
Sentinels
Shamrocks
Snowhawks
Steamers
Thunderbirds
Tigers
Voyagers
Wizards
There are 34 available places to move to. The following 19 cities are from previous games.
Austin, Texas, USA
Brooklyn, New York, USA
Columbus, Ohio, USA
Dublin, Ireland
Houston, Texas, USA
London, England
Memphis, Tennessee, USA
Mexico City, Mexico
Oakland, California, USA
Oklahoma City, Oklahoma, USA
Orlando, Florida, USA
Portland, Oregon, USA
Sacramento, California, USA
Salt Lake City, Utah, USA
San Antonio, Texas, USA
San Diego, California, USA
St. Louis, Missouri, USA
Toronto, Canada
These 15 cities are only in Madden NFL 24. 
Albuquerque, New Mexico, USA
Anchorage, Alaska, USA
Buenos Aires, Argentina
Canton, Ohio, USA
Honolulu, Hawaii, USA
Louisville, Kentucky, USA
Melbourne, Australia
Montreal, Canada
Omaha, Nebraska, USA
Paris, France
Rio de Janeiro, Brazil
San Juan, Puerto Rico
Tokyo, Japan
Vancouver, Canada
Virginia Beach, Virginia, USA
You can purchase Madden NFL 24 on PlayStation 4, PlayStation 5, Xbox One, Xbox X|S Series, and PC.