Madden NFL 22 Version 2.02 Explained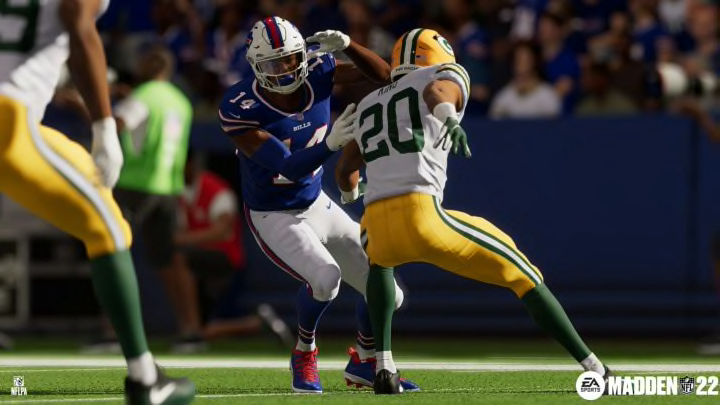 Madden NFL 22 / Credit to EA Sports
Madden NFL 22 version 2.02 released on Nov. 4 with authenticity updates, changes to general gameplay and pass coverage mechanics, and bug fixes for Franchise Mode.
The official patch notes can be found on Madden 22's website.
Madden NFL 22 Version 2.02 Explained
Gameplay Updates
Fixed an issue causing cornerbacks playing Outside Deep Third while aligned in the Press to turn incorrectly after bailing deep, allowing deep routes to get behind them
Added logic to improve Cloud Zone defenders inside the Red Zone, giving more awareness of the boundaries
Added logic to teammate avoidance to help Defensive Backs avoid running into each other for extended periods of time, taking themselves out of the play
Fixed an issue causing coverage assignments to sometimes flip when the offense would audible to a deep pass and snap quickly
Most of the changes made to Pass Coverage were bug fixes and improved logic for certain defenders. In general, pass coverage should now function more smoothly and defenders should give players less issues.
Removed the user-controlled ability to release the Tight End on the Delay Fade hot route
Fixed an issue allowing user-controlled defenders to get an unnatural speed burst at the snap while holding a combination of buttons
Removed user-controlled block-and-release routes for Tight Ends; block-and-release routes will now be released via a varied timer
Players now have less control over actions for the Tight End when running certain routes and certain speed exploits have been removed.
NFL Live Playbook Updates
Cardinals: Added Singleback Deuce
Cowboys: Added Weak I Pro
Falcons: Added Singleback Wing Tight U and Doubles Off Close
Jaguars: Added Strong H Pro, Singleback Trey, and Wing
Packers: Update to Singleback Deuce Close and Strong Close
Panthers Defense: Added 3-4 Under with specialized subpackage for their outside pass rushers
Patriots: Replaced the designed QB runs and options plays with more pro-style plays
Raiders Fixed minor issue for Gun Trips TE
Ravens: Added Singleback Wing Tight U, Ace Double Wing, and I Form Close
Saints: Added Taysom Hill Package
Seahawks: Added I Form Pro and Singleback Bunch X Nasty
49ers: Added Pistol Strong Slot
Vikings: Updated to Gun Trips TE
In total, 13 different teams had a play adjusted or added to their NFL Live Playbook.
Franchise updates
Fixed a rare issue where an infinite load would trigger after playing a Franchise game
Fixed a rare crash issue when re-entering the staff screen after simulating to the next season
Updated a pregame stat banner to show the correct team stats during the season
The majority of the updates made to Franchise mode were bug fixes that improved the game's stability.