Apex Legends
Maggie Rumored to be Next Legend According to Apex Leaks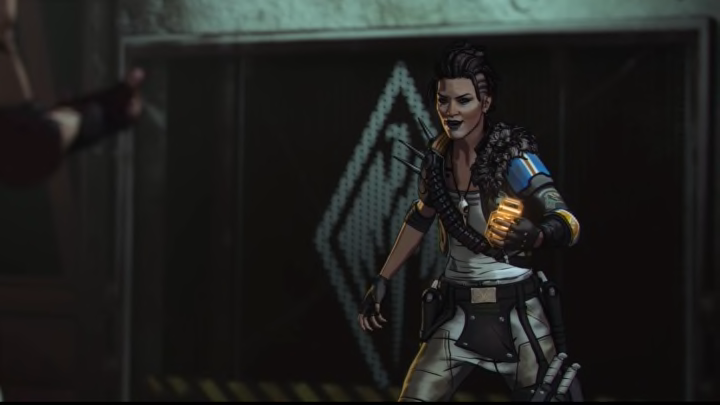 Photo by Respawn Entertainment/ YouTube
Apex Legends leaks revealed a potential new Legend for next season: Mad Maggie.
Maggie, or Mad Maggie, made her first appearance in Fuse's background story for Season 8. Fuse and Maggie are childhood friends in Salvo.
In the gameplay trailer, Fuse reveals to Maggie that he would become Salvo's first fighter to be in Apex Legends. She then expresses her disapproval and throws a grenade that blows off Fuse's arm, which is how Fuse's right arm came to be a robotic arm.
Maggie Rumored to be Next Legend According to Apex Leaks
Apex Legends Dataminers revealed animations, emotes, skins and sounds for Maggie. More specifically, a skydive emote which sounds like knives being thrown.
In a data mine of 'Empty Lights' skins for legends like Crypto, Fuse, Loba, and others, Mad Maggie is a part of that list. Empty Lights is rumored to be a part of a Season 12 event called "Ring Flare".
Players might already know Maggie's Australian announcer voice from Season 8's Chaos Theory and War Game events.
Though many potential Legends have been datamined in the past that are not current legends, fans are optimistic about the release of Maggie next season. With the amount of information leaked, and the fact that we already know who Maggie is and what her voice sounds like, this speculation seems particularly promising.
Mad Maggie has not yet been confirmed for Season 12 of Apex Legends. For now, fans will have to bide their time until official information is released.