Manchester City Announces Partnership With FaZe Clan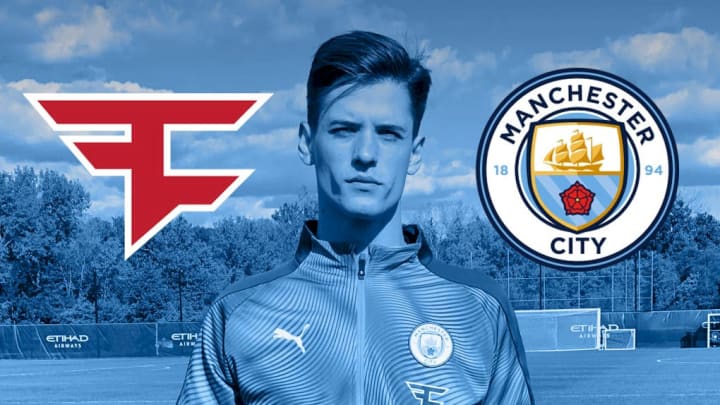 English football club Manchester City announced a new partnership Thursday with noted esports brand FaZe Clan.
FaZe Clan and Manchester City have previously worked together to produce videos of the football club's tour in the United States in 2017. Nate Hill, a popular Fortnite player for FaZe, is well known for being a fan of the football club, often wearing the club's signature blue during his streams.
Manchester City's formal announcement says that their partnership with FaZe is aimed to "bring together the worlds of football and esports across a number of exciting initiatives".
Manchester City and FaZe, an esports organization and lifestyle brand, plan on collaborating to produce content with talent and players between the two organizations and working together to host events around the world, in addition to releasing exclusive co-branded merchandise.
This partnership with one of the most prolific brands in esports would not be the club's first foray into gaming, having previously hosted an online tournament called the Man City Esports Cup with over 10,000 amateur participants.
Manchester City also currently has one FIFA player that attends tournaments worldwide and fields an online FIFA team in China with plans to expand to South Korea. FaZe Clan currently has one player on their FIFA roster, Tassal "Tass" Rushan. The two organizations plan on creating a shared training facility for their FIFA players.
With this most recent partnership, FaZe Clan adds to a growing list of prominent partners, which includes clothing brand Champion, car manufacturer Nissan, and even the well-known rapper Lil Yachty.
Manchester City is not the first football club to enter the esports industry. North, a notable Danish Counter-Strike: Global Offensive team is owned by F.C. Copenhagen and clubs like A.S. Roma or F.C. Schalke 04 have rosters in other games like FIFA or League of Legends.
Photo Courtesy of Manchester City F.C.