Top Games
Marauders 'Trial of the Gladiator' New World Quest Guide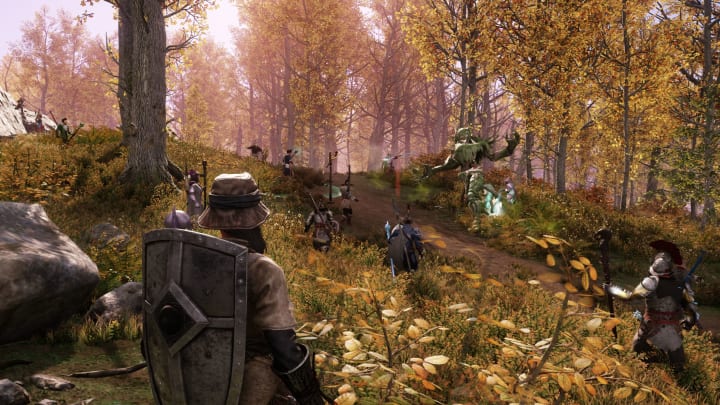 Are you looking to rise in the ranks of the Marauders Faction in New World? Here's how to become a Gladiator. / Amazon Games
Are you looking to rise in the ranks of the Marauders Faction in New World? Here's how to become a Gladiator.
There are three major factions within Aeternum: the Marauders, Syndicate, and Covenant. Each has its own ranking system allowing players to work and rise upward within the faction. Ranks, of course, have their own unique reward which unlock once the player meets and surpasses the requirements. Within the Marauders, one such rank is "Gladiator."
How to Beat Lost Pirate Hamidou in "Trail of the Gladiator"
The quest can be picked up from Ravager Winifred Silas in the Cutlass Keys. However, despite players typically reaching level 20 at the start of the quest, they'll need to be level 24 in order to actually progress with it.
DBLTAP cannot speak as to why this discrepancy exists, but we can confirm it is accurate at the time of writing.
Upon approaching her in Cutlass Keys, Silas remarks that the player doesn't look so "tough." She challenges them, stating that despite the fact they've built a reputation for themselves in the faction, they "don't deserve it."
"Now you're supposedly ready to advance, but I don't buy it." She says, "There no way you could pass the trial."
After a brief back and forth, she'll direct you to battle the "legendary warrior" Hamidou—now known as a Lost Pirate. He can be found directly northwest of the Marauder stronghold, just beyond the border into Monarch's Bluffs. The actual location is the Nautilus of Nunez.
The battle with Hamidou is pretty straightforward. It might be easier than player expect as there's a possibility they won't be the only ones in the area. Hamidou will be waiting further into the Nautilus, standing on the deck of a wrecked ship. His attacks are easily telegraphed and pretty easy to avoid so long as players are quick on their feet or have a decent shield.
Once a promising Maruader beats Hamidou, they'll be elevated to the rank of Gladiator within the Marauders. They'll also be given the following rewards:
96.25 Gold
1540 Experience
1500 Tokens
20 Azoth
Plus, a begrudging congratulations from Ravager Silas.