Marcos Alonso FIFA 20: How to Complete the Basic Flashback SBC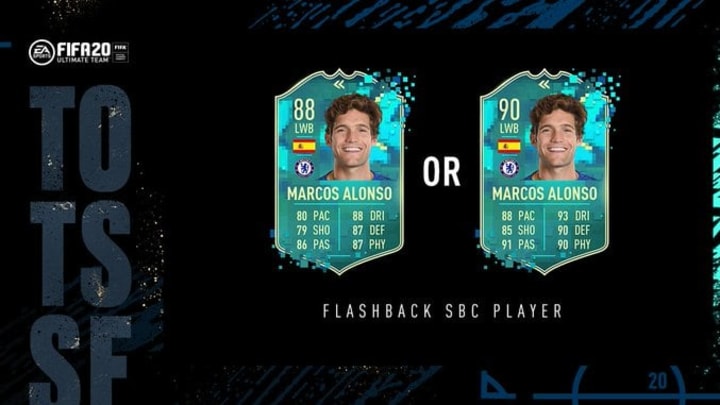 Marcos Alonso received a Flashback card during the FIFA 20 Team of the Season So Far promotion. / Photo by EA Sports
Marcos Alonso FIFA 20 Flashback SBC went live Sunday during the Team of the Season So Far promotion in FIFA Ultimate Team.
FIFA 20 Team of the Season So Far is one of the biggest promotions of the year honoring the best players from their respective leagues. The promotion was changed to reflect leagues on pause amid the COVID-19 pandemic, but the promotion innately stayed the same. The Premier League was the first major league released in packs following the Community and EFL squads.
Marcos Alonso received a Flashback card celebrating his inclusion in the FUT 17 Team of the Season. He also received a Premium version. For those requirements, click here.
Marcos Alonso FIFA 20: How to Complete the Flashback SBC
Here's how to complete the base Flashback Marcos Alonso SBC in FIFA 20:
One Segment
Squad Rating: 85
Team Chemistry: 80
# of Players in the Squad: 11
The basic Flashback Alonso should cost around 85,000 coins to complete. It's not a terrible card, but it doesn't fit the meta of having pacy fullbacks who can overlap and get back on defense quickly. The premium version is a much better option, but both make solid defensive substitutes for teams.
The basic Alonso expires May 6 at 1 p.m. ET while the premium is available for the rest of the game.