Marcos Alonso FIFA 20: How to Complete the Premium Flashback SBC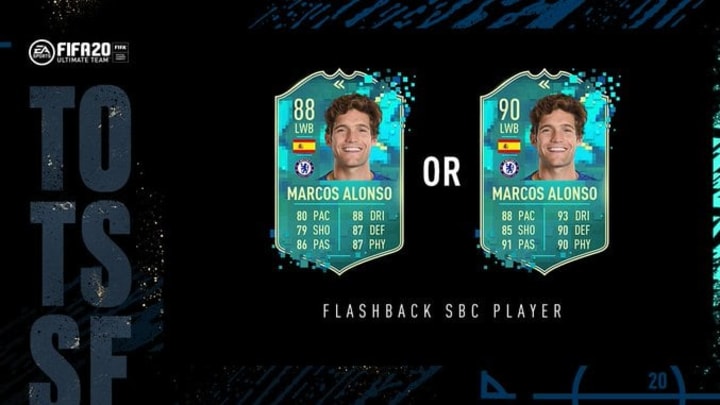 Marcos Alonso received two Flashback SBC cards during FIFA 20 Team of the Season So Far. / Photo by EA Sports
Marcos Alonso FIFA 20 Flashback SBC went live Sunday during the Team of the Season So Far promotion.
FIFA 20 Team of the Season So Far celebrates the best players in their respective leagues from around the world. The promotion had its name changed amid the COVID-19 pandemic causing leagues to be put on pause. The promotion has still been the same with the EFL, Premier League and Community teams released so far.
EA Sports introduced a new Flashback format with the basic and premium option for Marcos Alonso. One is cheaper and has an expiration date while the other doesn't expire and costs more in requirements. For the basic SBC requirements, click here.
Marcos Alonso FIFA 20: How to Complete the Premium Flashback SBC
Here's how to complete the premium Flashback Marcos Alonso in FIFA 20:
Segment 1
# of Players from Spain: Min. 1
In-Form or TOTW Moments Players: Min. 1
Squad Rating: 84
Team Chemistry: 75
# of Players in the Squad: 11
REWARD: Premium Gold Players Pack
Segment 2
# of Players from the Premier League: Min. 1
Squad Rating: 87
Team Chemistry: 60
REWARD: Rare Electrum Players Pack
The premium SBC does not have an expiration date and should cost around 300,000 coins to complete. The card stands out from the basic and makes a solid defender. The best way to implement him might be starting with five at the back and then shifting him in a central defending role in the midfield.
Diogo Jota also received a Player Moments SBC during the FIFA 20 TOTSSF.