Marcus Thuram FIFA 22: How to Complete the Shapeshifters SBC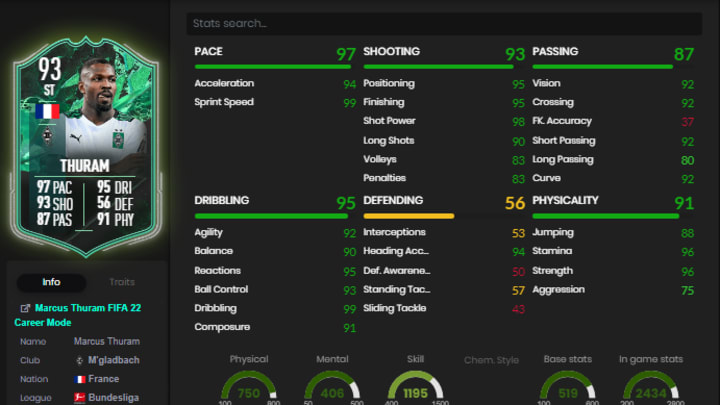 Photo by FUTBIN
Marcus Thuram FIFA 22 Shapeshifters SBC went live June 21 during the Team 1 portion of the promotion.
Thuram, a French striker playing for Bundesliga club Borussia M'gladbach, hasn't received much love in FIFA 22. Previously receiving numerous promotional items in past FIFA titles, this is the first special item for Thuram in FIFA 22 Ultimate Team. Shapeshifters' theme is changing a player's position to open up squad building possibilities by making players stronger in new positions.
Marcus Thuram FIFA 22: How to Complete the Shapeshifters SBC
Here's how to complete the Shapeshifters Thuram SBC in FIFA 22:
Segment 1
# of Players from France: Min. 1
Squad Rating: 85
Team Chemistry: 55
# of Players in the Squad: 11
REWARD: Premium Mixed Players Pack
Segment 2
# of Players from Bundesliga: Min. 1
Squad Rating: 86
Team Chemistry: 45
# of Players in the Squad: 11
REWARD: Rare Electrum Players Pack
Thuram's Shapeshifters item changes his main position from LM to striker meaning he can line up anywhere from ST to CDM. The item is coming in around 205,000 coins to complete from scratch, but it doesn't necessarily move the needle in terms of endgame items. There's a plethora of top-tier strikers to choose from at cheaper or similar prices and players have more content to look forward to for the rest of FUT 22.
FIFA 22 Shapeshifters Thuram expires June 26.