Martin Terrier FIFA 22: How to Complete the March Ligue 1 POTM SBC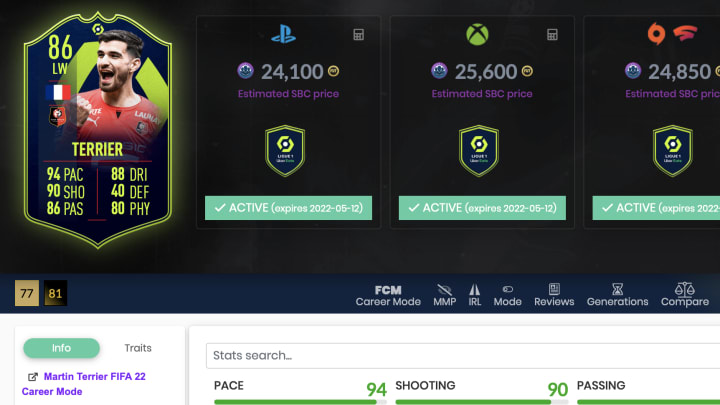 Martin Terrier has won the Ligue 1 Player of the Month award for March in FIFA 22 / Photo Courtesy of FUTBIN
Martin Terrier has won the Ligue 1 Player of the Month award for March, and has received a special POTM SBC in FIFA 22. His new POTM item is 86 rated, and costs one SBC segment to complete.
Here's how to complete the new Terrier POTM SBC in FIFA 22 Ultimate Team.
Martin Terrier POTM SBC Requirements
Ligue 1 Players: Min. 1
TOTW Players: Min. 1
Team Rating: Min. 82
Team Chemistry: Min. 80
This is Terrie's first ever Ligue 1 POTM award, and follows up last month's POTM winner Kylian Mbappe, who he'll strong-link to if you've already completed Mbappe's POTM SBC. He also perfect-links to Gaëtan Laborde's POTM SBC from December.
Martin Terrier's new POTM item is a +5 upgrade on his first in-form in FIFA 22, which was added as part of TOTW 12 on Dec. 8. Terrier has 3* skill moves and weak foot, with medium/medium work rates and the following face stats:
Pace: 90
Shooting: 90
Passing: 86
Dribbling: 88
Defending: 40
Physical: 80
With an engine chemistry style, Terrier can be a solid winger or even central attacking midfielder, with great pace and good shooting stats, as well as the upgraded dribbling from the chemistry style. His biggest downside is his balance and lack of 4* skill moves or weak foot, but for less than 26,000 coins, Terrier is a solid card for lower-tier Ligue 1/French teams in FUT.
Terrier's POTM SBC expires on May 12.