Top Games
Mass Effect Legendary Edition Could be Coming to Xbox Game Pass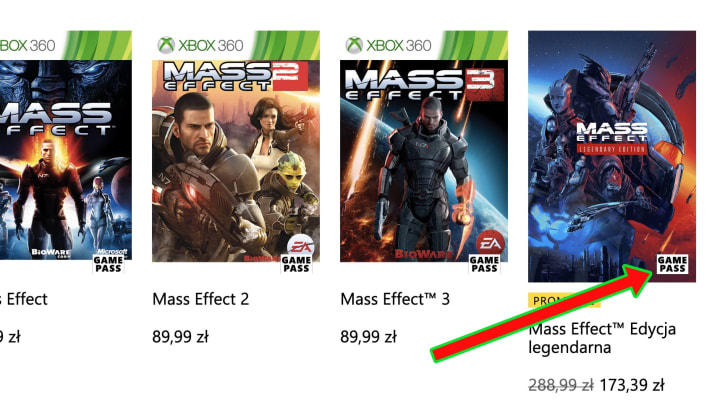 Mass Effect Legendary Edition recently appeared with the Xbox Game Pass badge in Poland. / XGP Poland
Mass Effect Legendary Edition recently appeared with the Xbox Game Pass badge in Poland.
According to Polish gaming newsite XGP, the trilogy remaster briefly sported the badge before being corrected by the article's publication on Nov. 20. Fortunately, the site did manage to grab a screenshot of the error before it was taken down. This still sparks the question of whether or not fans could expect it to appear on Xbox Game Pass within the month.
Mass Effect Legendary Edition on Xbox Game Pass?
Unfortunately, DBLTAP cannot confirm whether or not Mass Effect fans will be seeing the trilogy on Microsoft's subscription service.
Neither Microsoft nor EA Games, the publisher behind BioWare's often-touted sci-fi masterpiece—have come forward to acknowledge the error at the time of writing. Therefore, whether this was a misfire with the actual Xbox Game Pass service publishing a badge early or human-error mislabeling a similar title is unknown.
Legendary Edition is far from the first Mass Effect game to grace Xbox Game Pass. Additionally, with EA's history of putting its titles up on subscription services within a year of their release, it certainly isn't out of the realm of possibility. Legendary Edition released on May 14, 2021—making this leak only six months post-launch.
Those who don't want to wait for the trilogy to be available via Game Pass can grab it for Xbox One, PlayStation 4, and PC. The full title features all three previous Mass Effect games and their available DLC under one roof.
Additionally, those looking for recent releases on Xbox Game Pass will find titles such as Forza Horizon 5 currently available to play.