Matteo Darmian FIFA 22: How to Complete the Showdown SBC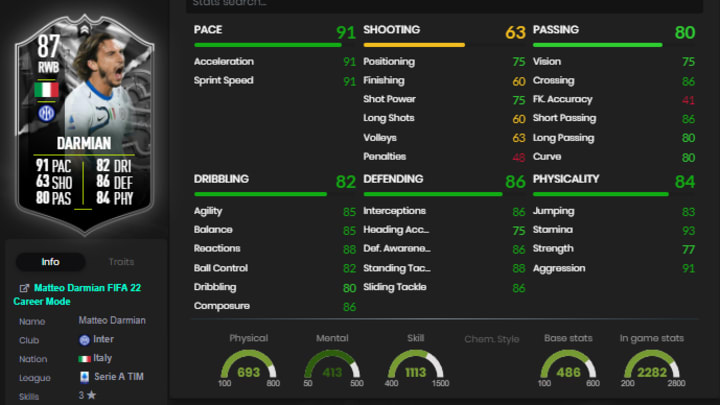 Matteo Darmian FIFA 22 Showdown / Photo Courtesy of FUTBIN
Ahead of Inter's upcoming match in Serie A, EA Sports have released a special Showdown SBC in FIFA 22 featuring Inter's Matteo Darmian. The Italian plays right wing-back for Inter, and his Showdown card is a huge +9 upgrade.
With the potential to be upgraded, Darmian looks like a great card. Here's how to complete the Darmian Showdown SBC in FIFA 22.
Matteo Darmian FIFA 22: How to Complete the Showdown SBC
Here's how to complete the Showdown Darmian SBC in FIFA 22:
Squad 1
Players from Inter: Min 1
TOTW Players: Min 1
Squad Rating: Min 82
Team Chemistry: Min 75
Reward: Premium Mixed Players pack
Squad 2
Players from Serie A: Min 1
TOTW Players: Min 1
Squad Rating: Min 86
Team Chemistry: Min 65
Reward: Rare Electrum Players pack
Showdown Darmian is initially coming in around 140,000 coins to complete from scratch. With the quality of both Muriel and Darmian's Showdown cards, the eyes of players who complete these SBCs will surely be on Atalanta vs Inter.
Inter has only lost one game domestically this season, so they may be the favorites to win based on that. However, Inter and Atalanta already played this season back on Sept. 25, 2021, with the match finishing in a 2-2 draw at Inter's ground. Both teams hope for a better result this time around at Gewiss Stadium.
Darmian's Showdown card looks to be a top RB option in both the Serie A and even on the entire game. He links to many great players in the league, including a perfect link to Headliners Barella. With a five-star weak foot and great pace and defending stats, as well as the potential for a +1 or +2 upgrade, Darmian looks to be a great card to complete if you have the fodder.
Showdown Darmian expires Jan. 16.