Matteo Politano FIFA 23: How to Complete the Winter Wildcards SBC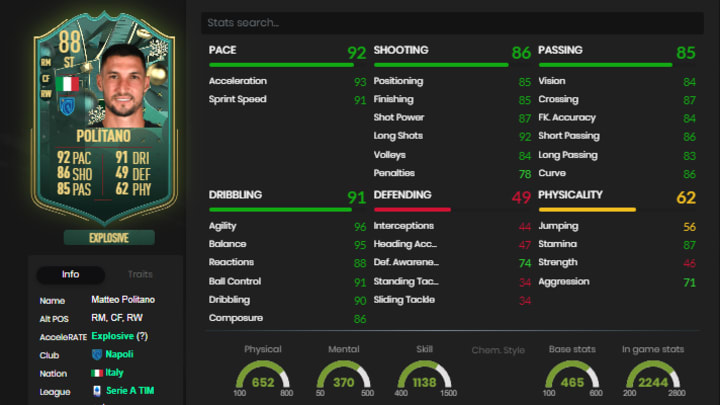 FUTBIN
Matteo Politano FIFA 23 Winter Wildcards SBC is now live as the final daily player SBC of the holiday themed promotion.
Winter Wildcards returned in FIFA 23 after first being introduced in FIFA 22. The promotion features daily player SBCs, objectives, Swaps and much more for players to engage with during the holiday season. The promotion is set to end Friday, Jan. 6 at 1 p.m. ET when FUT Centurions begins. On the final day of the promotion, EA Sports released a Winter Wildcards Politano SBC that looks like a must-complete for players.
Matteo Politano FIFA 23: How to Complete the Winter Wildcards SBC
Here's how to complete the FIFA 23 Winter Wildcards Politano SBC:
Segment 1
Serie A Players: Min. 1
86 Rated Players or Higher: Min. 1
Squad Rating: 84
No Chemistry Requirement
Players in the Squad: 11
REWARD: Small Gold Players Pack
Segment 2
Team of the Week Players: Min. 1
Squad Rating: 85
No Chemistry Requirement
Players in the Squad: 11
REWARD: Prime Mixed Players Pack
This is Politano's first special item in FIFA 23. His SBC item has been upgraed seven overall points to 88. He can line up at ST, CF, RW and RM giving him positional flexibility for squad building. As well, he has a boatload of traits:
Long Throw-in
Power Free-Kick
Finesse Shot
Flair
Leadership
Power Header
Outside Foot Shot
Swere Pass
Second Wind
Flair Passes
Bicycle Kicks
Set Play Specialist
Even if you want to stash this card as a super sub late in games, this is a must-complete and looks like a fantastic SBC to round out Winter Wildcards.
Winter Wildcards Politano expires Jan. 19 at 1 p.m. ET.