FIFA
Mauro Icardi FIFA 23: How to Complete the Out of Position SBC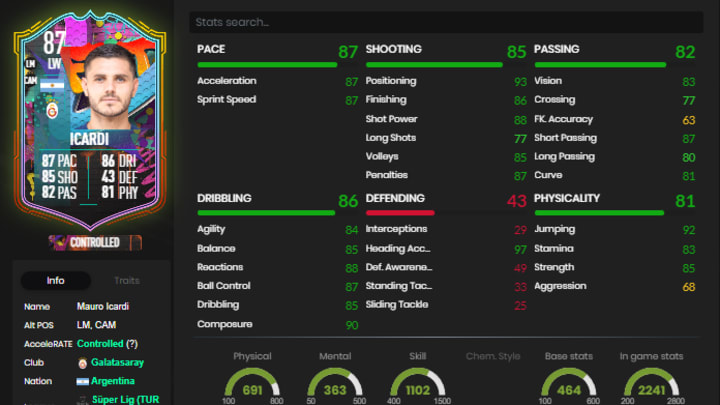 FUTBIN
Mauro Icardi FIFA 23 Out of Position SBC went live Nov. 2 during the new Ultimate Team promotion.
Out of Position draws themes from previous FUT promotions like Shapeshifters to reinvent players in the game. Players received special promotional items with statistic boosts and position changes to alter how they operate in games. Galatasary striker Mauro Icardi is the latest player to receive a promotional item shifting out to the left wing with two alternate positions.
Mauro Icardi FIFA 23: How to Complete the Out of Position SBC
Here's how to complete the FIFA 23 Out of Position Icardi SBC:
One Segment
Players from Argentina: Min. 1
85 Rated Players or Higher: Min. 2
Squad Rating: 84
No Chemistry Requirement
Players in the Squad: 11
Out of Position Icardi, according to FUTBIN, is coming in around 34,000 coins to complete from scratch. OOP Icardi has been upgraded 10 ratings overall to 87. Most notably, he received a +25 boost to pace.
His base position is left wing, but he also has left midfield and CAM as alternate positions just like his base card. He is set to Controlled for AcceleRATE, but can be changed to Lengthy with an Architect chemistry style. Finally, he has four-star skills and weak foot.
FIFA 23 OOP Icardi expires Jan. 20 in accordance with the Super Lig Foundations items that were released in objectives.
Check out more coverage on the latest FIFA 23 Ultimate Team SBCs: