Mauro Zarate FIFA 20: How to Complete the Flashback SBC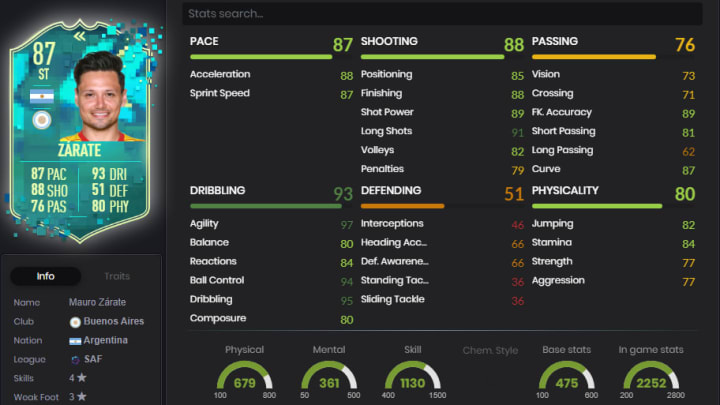 Mauro Zarate received a Flashback card during FUT Player Days /
Mauro Zarate FIFA 20 received a new Flashback Squad Building Challenge card on Monday during the FUT Player Days promotion.
FUT Player Days is a new promotion to FIFA Ultimate Team this year in FIFA 20. The promotion added discounted promotional packs, 2-for-1 lightning rounds, but most importantly the new CONMEBOL Libertadores Kick-Off players. The SBC content has focused primarily on CONMEBOL players as well with Mauro Zarate receiving a Flashback card on Monday.
Mauro Zarate FIFA 20: How to Complete the Flashback SBC
Here's how to complete the Flashback Mauro Zarate SBC:
One Segment
# of Players from Argentina: Min. 1
In-Form Players: Min. 2
Squad Rating: 85
Team Chemistry: 75
# of Players in the Squad: 11
Flashback Zarate costs around 83,000 coins to complete from scratch. The card is hard to link outside of Argentinian and SAF players making him a niche player. Although, he's got great statistics in important areas.
Still, he's got a three-star weak foot and weak passing. He'd be best deployed as a sole striker. And, he was released alongside Player of the Month Lionel Messi.
Flashback Mauro Zarate expires Thursday at 1 p.m. ET.