Maxim Gullit FIFA 23: How to Complete the Winter Wildcards SBC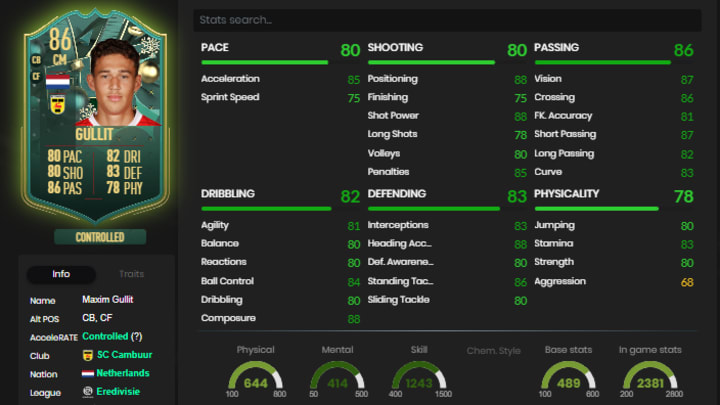 FUTBIN
Maxim Gullit FIFA 23 Winter Wildcards SBC went live Dec. 29 during the holiday themed promotion.
Winter Wildcards returned in FIFA 23 after first being introduced in FIFA 22. The holiday promotion includes special items in packs, a Swaps program, objectives, daily player SBCs and more. The latest player SBC is a fun one for players with Maxim Gullit receving an 86 rated item. Maxim Gullit is the son of footballing and FUT icon Ruud Gullit. To make things even more exciting, EA Sports gave Maxim Gullit the same face card statistics and positions as his father's Base Icon.
Maxim Gullit FIFA 23: How to Complete the Winter Wildcards SBC
Here's how to complete the FIFA 23 Winter Wildcards Gullit SBC:
One Segment
Netherlands Players: Min. 1
Squad Rating: 84
No Chemistry Requirement
Players in the Squad: 11
Ruud Gullit is one of the most sought after players every year in FUT, if not the most sought after player. He even has a special category of players named after him called the Gullit Gang where a player has at least 80 points in every face card statistic.
Maxim Gullit is easy to craft and looks to be a fun item that can line up at CM, CB, or CF just like his father's Base Icon card. He'll be a little difficult to get on full chemistry unless players are running multiple Eredivisie players in their squads. Netherlands players will be the best way to get him on at least two diamonds of chemistry.
FIFA 23 Winter Wildcards Gullit expires Jan. 12 at 1 p.m. ET.