Mayan Malediction Warzone SMG: Everything You Need to Know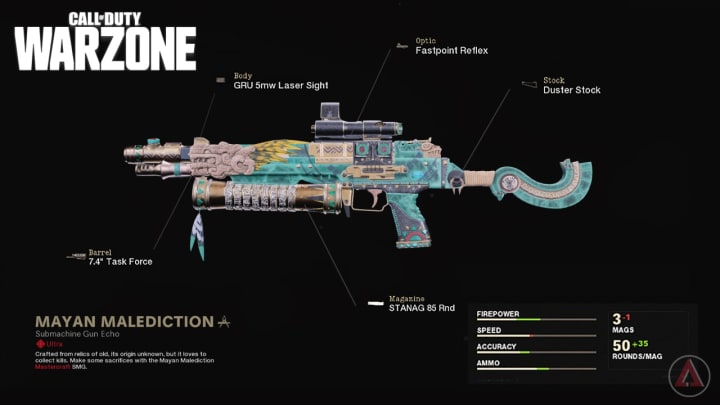 The Mayan Malediction SMG in Call of Duty (COD): Warzone is current available as part of a bundle on the COD in-game store. /
The Mayan Malediction SMG in Call of Duty (COD): Warzone is currently available as part of a bundle on the COD in-game store.
Warzone players have a brand new Mesoamerican-inspired bundle waiting for them on the Warzone and Black Ops Cold War Store. For just 2000 COD Points, players can own the Montezuma's Curse Mastercraft Bundle with nine unique items, including:
Mayan Malediction SMG blueprint
Aztec Assassin AUG rifle blueprint
Dorado Dasher vehicle skin
Emerald Idol charm
Royal Entrance vehicle horn
Ritual Sacrifice watch
Mask of Madness emblem
Cursed Mask calling card
2 Battlepass Tier Skips
Mayan Malediction Warzone SMG
Players can currently purchase this blueprint alongside its bundle. It is of Ultra quality and based on the Bullfrog SMG, so the blueprints will only work with that weapon. It has five attachments to the barrel, body, optics, magazine, and stock.
Barrel: 7.4" Task Force
Body: GRU 5mw Laser Sight
Magazine: Stanag 85 Rnd
Optic: Fastpoint Reflex
Stock: Duster Stock
This weapon features a sharp increase to firepower, with additional improvements to its accuracy and ammunition capacity. It does lose a bit of its speed, however.