Mesut Ozil FIFA 23: How to Complete the Winter Wildcards SBC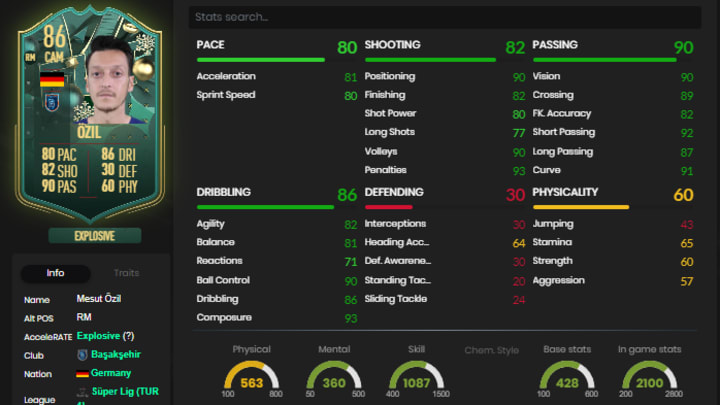 FUTBIN
Mesut Ozil FIFA 23 Winter Wildcards SBC went live Dec. 24 as the latest daily player SBC released during the holiday promotion.
Winter Wildcards returns in FIFA 23 after first being introduced in FIFA 22. The promotion includes daily player SBCs, a Swaps program, objective and much more to stock players' clubs this winter. Mesut Ozil is the latest player SBC released following a Winter Wildcards Rodrigo De Paul SBC.
Mesut Ozil FIFA 23: How to Complete the Winter Wildcards SBC
Here's how to complete the FIFA 23 Winter Wildcards Ozil SBC:
Segment 1
84 Rated Players or Higher: Min. 2
Squad Rating: 83
No Chemistry Requirement
Players in the Squad: 11
REWARD: Premium Gold Pack
Segment 2
Germany Players: Min. 1
Squad Rating: 84
No Chemistry Requirement
Players in the Squad: 11
REWARD: Small Gold Players Pack
Winter Wildcards Ozil looks like an okay card for those wanting to perhaps build a Germany or Arsenal past and present team, but there is a glaring issue with this card. Ozil has terrible stamina, let alone terrible physicality statistics across the board. This card will more than likely have to be substituted early on in games. As well, this card is harder to link considering Ozil plays in Super Lig. There are some decent cards to link to Ozil in that league, but nothing that currently makes it into the growing power curve.
Winter Wildcards Ozil expires Jan. 7 at 1 p.m. ET.