Michail Antonio FIFA 22: How to Complete the Fantasy FUT SBC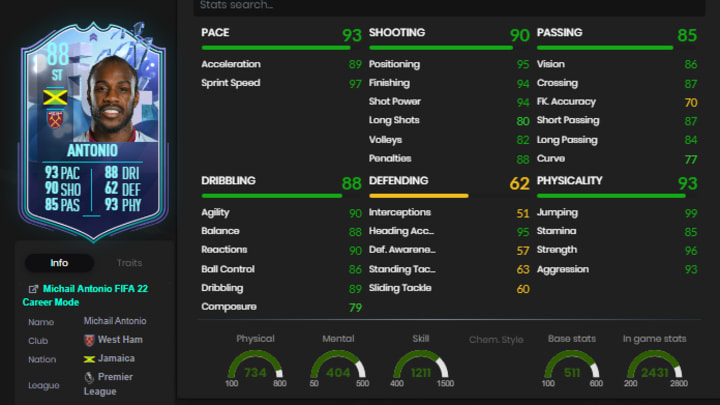 Photo by FUTBIN
Michail Antonio FIFA 22 Fantasy FUT SBC came out March 22 during the new Ultimate Team promotion.
Fantasy FUT is a brand new FIFA Ultimate Team promotion tied to real life performances. It's essentially a reworked What If promotion, but with added twists that drive up interest in players. Cards receive initial boosts and then have the opportunity to upgrade three times, all at a +1 overall value. Here's how players upgrade:
First +1 Boost: Three appearances in the next five domestic league games
Second +1 Boost: One win in the next five domestic league games
Third +1 Boost: One goal or assist for attackers/midfielders, one clean sheet for defenders and goalkeepers in the next five domestic league games
West Ham United striker Michail Antonio is the latest player to receive a Fantasy FUT card.
Michail Antonio FIFA 22: How to Complete the Fantasy FUT SBC
Here's how to complete the Fantasy FUT Antonio SBC in FIFA 22:
One Segment
# of Players from Premier League: Min. 1
Squad Rating: 85
Team Chemistry: 70
# of Players in the Squad: 11
Antonio isn't expensive, and he's got a well rounded card to start. Plus, he has the opportunity to upgrade further through the prerequisites. Fans might complain that it's a repeated player from a previous promotion, in Antonio's case Rulebreakers, but this is a good card. The only downside is that he has a three-star weak foot.
If you're looking for a new Premier League striker, this is a solid option. If you have cards that already top this one, then this will be an SBC you'll probably skip.
Fantasy FUT Antonio expires March 29.