Milkweed Warzone Blueprint: Everything You Need to Know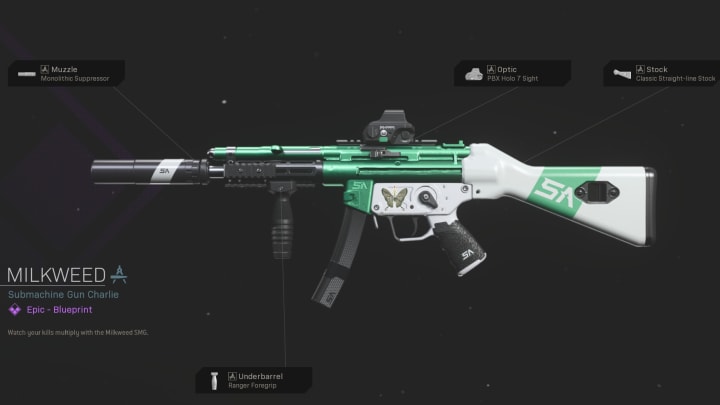 The Milkweed MP5 weapon blueprint is a popular item in Call of Duty: Warzone. / Photo by Activision/Infinity Ward
Milkweed Warzone blueprint is a custom weapon players should know all about in Season 4.
The Milkweed is a popular Epic blueprint for the MP5 sub-machine gun. The MP5 is widely considered one of the best, if not the best SMG in the game. It provides high damage, fire rate and accuracy at close and medium range. It's the go-to secondary on Overkill classes in Warzone for many players.
Blueprints as a whole are unique builds for weapons providing attachments and a special skin. Here's how to get the MP5 Milkweed blueprint in Call of Duty: Warzone. For those that purchase them permanently, they also give players attachments to use as they level up weapons.
Milkweed Warzone Blueprint: Everything You Need to Know
As mentioned, the Milkweed is available as a drop from crates in games of Warzone. Although, players can own it permanently by purchasing it in the store for COD Points.
The permanent version of the Milkweed blueprint also has better attachments to use immediately than the in-game version. The permanent version comes with the following attachments:
Muzzle: Monolithic Suppressor
Optic: PBX Holo 7 Sight
Underbarrel: Ranger Foregrip
Stock: Classic Straight-line Stock
The Milkweed is part of the Mad Monarch bundle. It costs 1,000 COD Points and also comes with the Viceroy blueprint for the Renetti pistol, an emblem and sticker. Players can swap out preferred attachments on the Milkweed once they're unlocked giving players a sleek green and white skin to use.