FIFA
Milos Degenek FIFA 23: How to Complete the Path to Glory SBC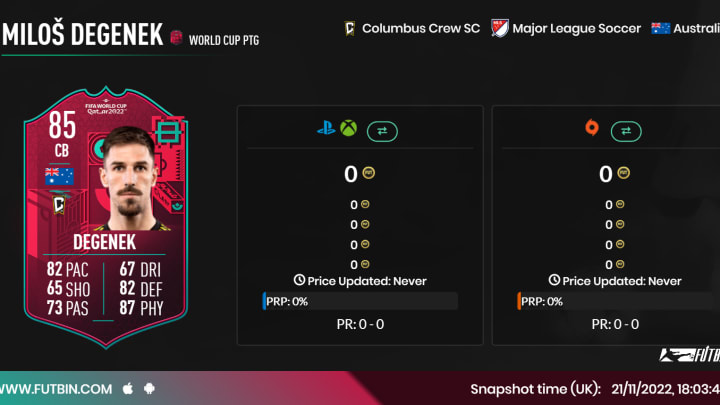 FUTBIN
Milos Degenek FIFA 23 Path to Glory SBC went live Nov. 21 during the World Cup themed promotion.
Path to Glory follows players and countries at the FIFA World Cup in Qatar. These live items upgrade as countries progress throughout the tournament. Players receive upgrades for advancing from the group stage and each subsequent knockout round. As well, players who advance far enough will receive skill moves and weak foot upgrades.
Milos Degenek represents Australia at the World Cup. For FIFA Ultimate Team purposes, he looks to be a valuable MLS defender if Australia progresses far in the tournament.
Milos Degenek FIFA 23: How to Complete the Path to Glory SBC
Here's how to complete the FIFA 23 Path to Glory Degenek SBC:
One Segment
Team of the Week Players: Min. 1
Squad Rating: 83
No Chemistry Requirement
Players in the Squad: 11
Path to Glory Degenek's base card is 85 rated and looks like a solid defender for MLS squads. These cards are predicated on upgrading as countries advance in the World Cup. Australia has a tough group stage facing off against France, Denmark and Tunisia. France and Denmark are favorites to advance from the group. If Australia is able to pull off the upset, Degenek will upgrade to 86 overall. After that, any upgrade is a bonus.
As well, Path to Glory Degenek will expire in six days. Players can wait to see how Australia perform against France before determining if they want to complete this SBC.