Minecraft Announces Star Wars May 4th Celebration: Skins, Packs & More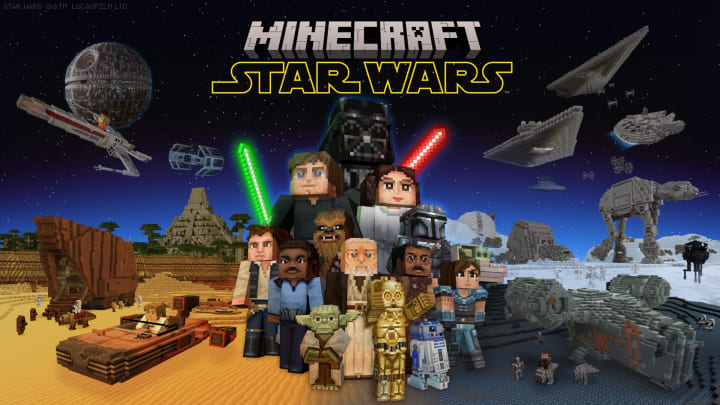 Minecraft x Star Wars / Mojang, Lucasfilms
Mojang have announced a series of Star Wars celebrations in Minecraft for May 4th. Here's what players can look forward to.
With May 4th just around the corner, Star Wars fans have had plenty to enjoy in recent days. Aside from the launch of Star Wars Jedi: Survivor on April 28, a number of other celebrations have cropped up in other games. Minecraft players can look forward to a number of free Star Wars-themed items, discounted packs and more beginning on May 2nd and running until May 8th.
From May 2, players can grab 33% off all Star Wars packs in the Minecraft Marketplace. Players can grab a Han Solo, Chewbacca or Luke Skywalker skin, and build their own Mos Eisley cantina. The Star Wars Classic Skin Pack features fifty familiar heroes and villains from the Galactic Civil War. The Star Wars Mash-Up Pack adds in even more characters, such as faces from The Mandalorian.
But, Skin Pack discounts aren't all that's on offer. Players can also grab themselves some free cosmetics to use in-game: an Ewok mask and a special R2-D2 Beanie.
Players can reddem their free Ewok Mask and R2-D2 Beanie Character Creator Items until May 9, 2023 at 10 AM PST. The items are limited to one per person.
Players can head to the Minecraft Marketplace to check out all of the deals and rewards on offer.