Top Games
MLB The Show 21 Headliners Set 25 Revealed: 96 Michael Young
By Max Mallow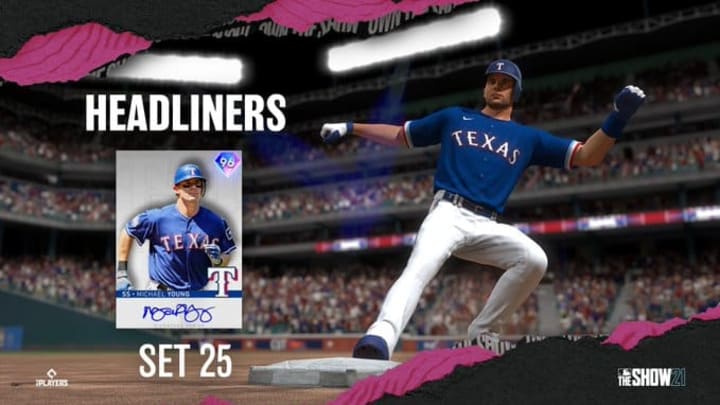 Photo by San Diego Studios
MLB The Show 21 Headliners Set 25 was revealed July 23 featuring a new Signature Series item coming to Diamond Dynasty.
Headliners Set 24 featured a Future Stars item for Seattle Mariners pitcher Logan Gilbert. Fans weren't too enticed by that set nor the preceding Robb Nen, but perhaps Texas Rangers fans will be excited by this new set. Headliners packs are released frequently throughout a Diamond Dynasty cycle with each set featuring a special Diamond card.
Headliners packs feature better odds at packing a Diamond and specifically that set Diamond.
MLB The Show 21 Headliners Set 25 Revealed: 96 Michael Young
Headliners Set 25 features a 96 overall Signature Series card for Texas Rangers shortstop Michael Young.
Signature Series items are some of the best looking cards in the game. Unfortunately, this new card pales in comparison to recent items released by San Diego Studios. Especially considering that those cards are free to acquire and players have to purchase Headliners packs for a chance at Young. Items like Trea Turner in Team Affinity Season 3 are preferred by many.
Headliners packs are limited to five per account and cost 7,500 Stubs per pack. If you don't want to purchase the pack, players usually are about the price, more or less, of all the packs combined. Additionally, there's a chance SDS releases these packs in a future Program.