Top Games
MLB The Show 21 Kitchen Sink 1 Pack Announced
By Max Mallow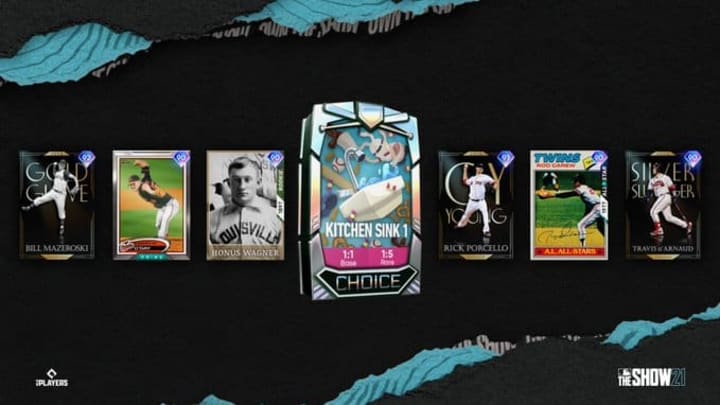 Photo by San Diego Studios
San Diego Studios revealed the Kitchen Sink 1 pack coming to MLB The Show 21 Diamond Dynasty on June 1. Kitchen Sink 1 is the first special pack released following the Space set and it includes both a Rare and Base round.
Just like the Space packs previously released, once a player opens a Kitchen Sink 1 pack a Rare or Base round will start. The Base round contents were revealed for the pack while the Rare items remain a mystery. Players will choose one item from whichever round spawns.
MLB The Show 21 Kitchen Sink 1 Pack Announced
Here's a look at the player list for Base round of Kitchen Sink 1:
92 - Bill Mazeroski - Gold Glove
91 - Rick Porcello - Cy Young
90 - Rod Carew - All-Star
90 - Darren O'Day - Prime
90 - Honus Wagner - Rookie
90 - Travis d'Arnaud - Silver Slugger
It's unknown if the Rare cycle will be revealed on social media ahead of the pack going live June 1 at 3 p.m. ET. Additionally, it's unknown how much the pack will cost. If it's just like the Space packs, it'll be 30,000 Stubs per pack. Players have a limit of two per account. If you don't perhaps get the player you want, expect the pack to be re-released at later points in the game.
Perhaps in the 3rd Inning Program or during another Flash Sale promotion.
MLB The Show 21 Kitchen Sink 1 goes live in Diamond Dynasty around 3 p.m. ET on June 1.