MLB The Show
MLB The Show 22 Field of Dreams Bosses: Full List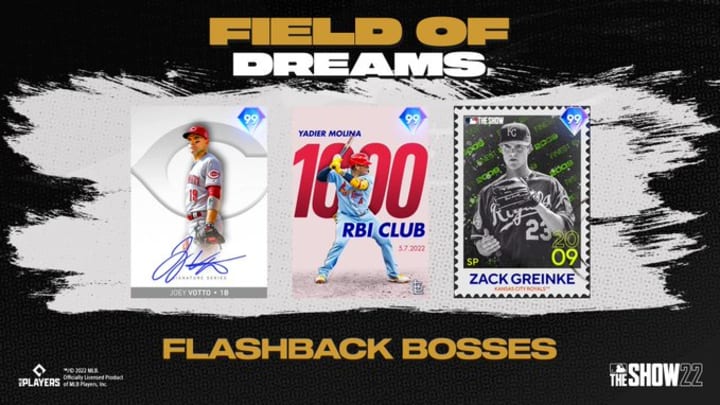 Photo by SIE San Diego Studios
SIE San Diego Studios revealed the nine bosses for the upcoming MLB The Show 22 Field of Dreams program in Diamond Dynasty.
Major League Baseball for the second year in a row will host a Field of Dreams game which has become a modern spectacle. Last year's event was widely praised with the Chicago White Sox walking off the New York Yankees. Paying homage to the 1989 Kevin Costner film, the game is played in Dyersville, Iowa near the location of the movie.
As such, SDS released a tie-in program last year in MLB The Show 21 with special rewards featuring White Sox and Yankees players. This year's rendition of the Field of Dreams game features the Cincinnati Reds and Chicago Cubs and there's a new Diamond Dynasty program coming for the game.
MLB The Show 22 Field of Dreams Bosses: Full List
The driving factor behind Featured Programs in Diamond Dynasty are the special Diamond bosses. All bosses for this program are 99 rated. Here's the full list of special items coming in the Field of Dreams program:
Future Stars
Photo by SIE San Diego Studios
Grayson Rodriguez - SP / Baltimore Orioles
Oneil Cruz - SS / Pittsburgh Pirates
Riley Greene - CF / Detroit Tigers
Flashback Bosses
Photo by SIE San Diego Studios
Joey Votto - 1B / Cincinnati Reds (Signature Series)
Yadier Molina - C / St. Louis Cardinals (Milestone)
Zack Greinke - SP / Kansas City Royals (Retro Finest)
Legend Bosses
Photo by SIE San Diego Studios
Brian Roberts - 2B / Baltimore Orioles (Retro Finest)
Ron Santo - 3B / Chicago Cubs (Signature Series)
Al Kaline - CF / Detroit Tigers (Awards)
The player pool might not excite most players, but there are some great items here to add especially on the Collections front as people grind toward the Retro Finest Andrew McCutchen. If there's anything to criticize, some fans might not be happy with there being two Detroit Tigers players who both play center field.
Depending on how his statistics break down, Milestone Yadier Molina might end up being the most popular card in the program. Most players opt for Takashi Okazaki Mike Piazza behind the plate right now, but this new Molina card should be popular.
MLB The Show 22 Field of Dreams program goes live around 3 p.m. ET today, Aug. 9.