MLB The Show 22 June 24 Roster Update: 5 Players Getting Downgraded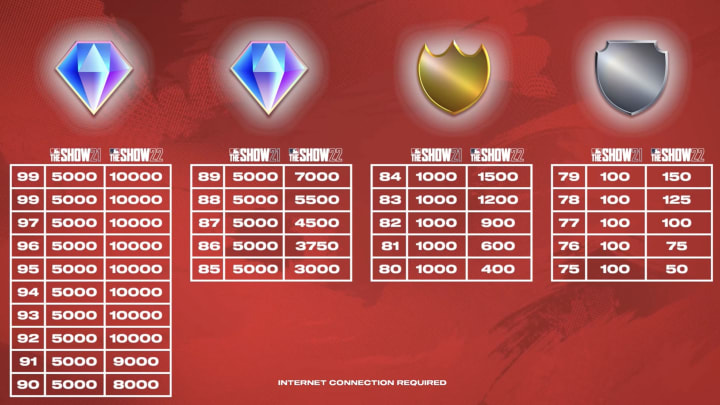 Photo Courtesy of San Diego Studios
Although you hate to see it, players do go through rough patches. Sometimes those rough patches last a long time. And in MLB The Show, those rough patches end in a downgrade in players' overall rating for Live Series items. Sometimes those downgrades mean a drop in rarity or just a drop in overall.
Here are five players who might get downgraded in the June 24 roster update.
MLB The Show 22 June 24 Roster Update: 5 Players Getting Downgraded
1: George Springer - OF / Toronto Blue Jays
Baltimore Orioles v Toronto Blue Jays / Cole Burston/GettyImages
The Blue Jays center fielder has been struggling since the last roster update. Since June 10, Springer has been hitting .150 with only one home run and two RBIs while striking out 12 times. Springer is currently an 84 overall and will most likely keep his gold rarity, but based on his recent struggles, should drop from an 84.
2: Giancarlo Stanton - DH/OF / New York Yankees
Tampa Bay Rays v New York Yankees / Dustin Satloff/GettyImages
The Yankee slugger has been struggling mightily after returning from injury. Before his injury, Stanton was a .300 hitter. But as of yesterday, Stanton's average is down to .245. Since the last roster update, Stanton is only hitting .118, with two home runs and six RBIs. A good sign for Stanton is that his strikeout numbers are lower than usual, having only eight strikeouts. Stanton is currently an 80 overall and after this roster update, will most likely lose his gold status.
3: Ke'Bryan Hayes - 3B / Pittsburgh Pirates
Chicago Cubs v Pittsburgh Pirates / Justin Berl/GettyImages
The young Pirates infielder has also been struggling at the plate as of late. Since the last roster update, Hayes is hitting only .175 with no home runs and two RBIs. Hayes has also struck out 14 times since then. After a scorching start to the season where Hayes hit will above .300, his average is now down to .265 after his recent struggles. Just like Stanton, Hayes will most likely lose his gold rarity and drop down from an 80 overall.
4: Kevin Gausman - SP / Toronto Blue Jays
Baltimore Orioles v Toronto Blue Jays / Vaughn Ridley/GettyImages
Next up on the list is our second Blue Jays player and first pitcher. Gausman started the year as one of the better pitchers in the AL. But as of late, Gausman has hit a rough patch. In his three starts since the last roster update, Gausman has thrown 14.1 innings and allowed 20 hits and eight earned runs. Gausman has a 5.02 ERA in that span with six walks. Gausman is an 85 overall diamond, and after tomorrow may lose his diamond status and drop down to a gold.
5: Sean Manaea - SP / San Diego Padres
Arizona Diamondbacks v San Diego Padres / Denis Poroy/GettyImages
The Padres recent acquisition has been inconsistent all season. Manaea has allowed runs in every game he has pitched in except for the first game of the season. Since the last roster update, Manaea has made two starts. Combining for just ten innings pitched, Manaea has allowed seven runs in his two starts. Manaea has also allowed more hits than strikeouts thrown, 12 hits to 11 strikeouts. In his two games Manaea has a 6.30 ERA and on the season has a 3.87 ERA. Currently, Manaea is an 81 overall gold and will either drop down to an 80 overall or drop down to a silver.