Top Games
MLB The Show 22 June Monthly Awards: Full List of Players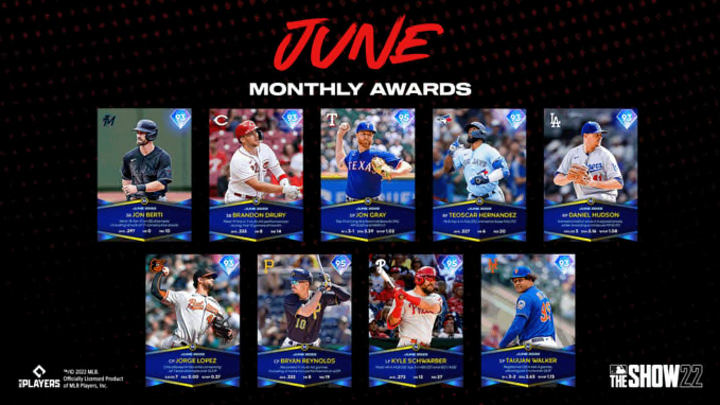 Photo by San Diego Studios
MLB The Show 22 June Monthly Awards players were announced in full July 6 ahead of the program going live the same day around 3 p.m. ET.
San Diego Studios releases a Monthly Awards program each month for the Major League Baseball regular season in MLB The Show's Diamond Dynasty mode. Players who excelled and had standout performances all month long receive special Diamond items. The best performing player receives a Lightning item and there's also a Flashback Lightning player added each program.
June's Flashback Lightning player is Chris Sale on the Chicago White Sox following Andre Dawson and Jim Rice in April and May respectively.
MLB The Show 22 June Monthly Awards: Full List of Players
Here's a look at the Monthly Awards players and the Lightning item for June:
Jon Berti - Miami Marlins / 3B - 93
Brandon Drury - Cincinnati Reds / 3B - 93
Daniel Hudson - Los Angeles Dodgers / RP - 93
Jorge Lopez - Baltimore Orioles / CP - 93
Taijuan Walker - New York Mets / SP - 93
Teoscar Hernandez - Toronto Blue Jays / RF - 93
Jon Gray - Texas Rangers / SP - 95
Bryan Reynolds - Pittsburgh Pirates / CF - 95
Kyle Schwarber - Philadelphia Phillies / LF - 95
Photo by San Diego Studios
The June Lightning player is none other than Houston Astros star Yordan Alvarez coming in as a 97 overall left fielder. Alvarez had a monster June leading MLB in batting average, runs batted in, wins above replacement and weighted on-base average.
Once the program releases, players will have to complete a list of moments, in-game parallel experience objectives and complete certain collections. There will also be some packs scattered throughout the program.
MLB The Show 22 June Monthly Awards program goes live July 6 around 3 p.m. ET.