MLB The Show 22 Legends of the Franchise: Full List of Players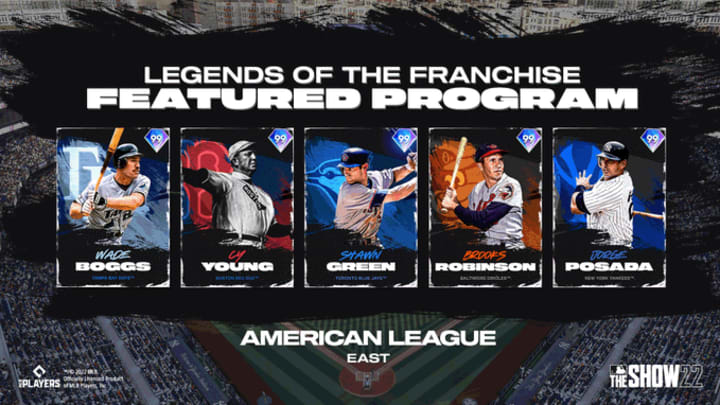 Photo by SIE San Diego Studios
MLB The Show 22 Legends of the Franchise is the next Featured Program in Diamond Dynasty.
Legends of the Franchise focuses on the greatest players to play for MLB teams. The card design is similar to the first Featured Program, Faces of the Franchise, which featured prominent players in today's game for each team. SIE San Diego Studios has begun to announce all 30 players featured in the event.
MLB The Show 22 Legends of the Franchise: Full List of Players
Here are the confirmed players for Legends of the Franchise. Unless otherwise noted, every player is 99 overall:
American League East
Wade Boggs - Tampa Bay Rays
Cy Young - Boston Red Sox
Shawn Green - Toronto Blue Jays
Brooks Robinson - Baltimore Orioles
Jorge Posada - New York Yankees
American League Central
Cliff Lee - Cleveland Guardians
Alan Trammell - Detroit Tigers
Torii Hunter - Minnesota Twins
Ray Durham - Chicago White Sox
Bret Saberhagen - Kansas City Royals
National League East
A.J. Burnett - Miami Marlins
Hank Aaron - Atlanta Braves
Andre Dawson - Washington Nationals
Mike Schmidt - Philadelphia Phillies
Tom Glavine - New York Mets
National League Central
Jason Bay - Pittsburgh Pirates
Ozzie Smith - St. Louis Cardinals
Ryne Sandberg - Chicago Cubs
Prince Fielder - Milwaukee Brewers
Joe Morgan - Cincinnati Reds
Two divisions have yet to be revealed. As more divisions and players are announced, we'll update our story. MLB The Show 22 Legends of the Franchise kicks off in Diamond Dynasty on Friday, Sept. 15 around 3 p.m. ET.