MLB The Show 22 Mini-Seasons Mystery Mission: How to Complete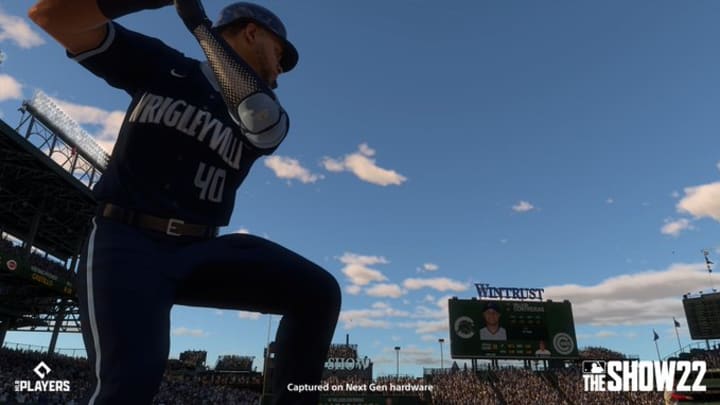 Photo by San Diego Studio
MLB The Show 22 Mini-Seasons is a brand new mode to this year's Diamond Dynasty cycle and San Diego Studio is even hiding special rewards through mystery missions.
MLB The Show 22 released in early access on April 1 for those who purchased a special edition of the game. Diamond Dynasty fans who hopped into Mini-Seasons might've come across a special mystery mission available in the goals section. The objective has a tally of three and awards a special Diamond Mystery Choice Pack. While some purists might want to figure it out for themselves, grinders are looking for the answer.
If you're curious, here's how to complete the first MLB The Show 22 Mini-Seasons mystery mission.
MLB The Show 22 Mini-Seasons Mystery Mission: How to Complete
The first mystery mission is completed by performing three errors in a single game of Mini-Seasons. The objective tag even says, "Are you even trying?" Some might've speculated that the objective was tied to perhaps playing on the lowest difficulty possible to push through the season for the rewards. But, in fact it is error based.
Easy ways to accomplish the objective are throwing way too early or too late on grounders. Doing so will pull your infielder off the bag and the game will rule it an error.
After completing the mission, you'll be rewarded with the mystery choice pack. The choice pack is in fact a Classic Stadium choice pack. Not the most glamorous reward, but players will need to collect those if they want to get the Polo Grounds which goes into the G.O.A.T. collection. Or, you can sell it for the immediate 1,000-2,000 Stubs.
MLB The Show 22 is available in early access now and launches fully on April 5 for PlayStation, Xbox and Nintendo Switch.