MLB The Show 22 Ranked Season 6 Rewards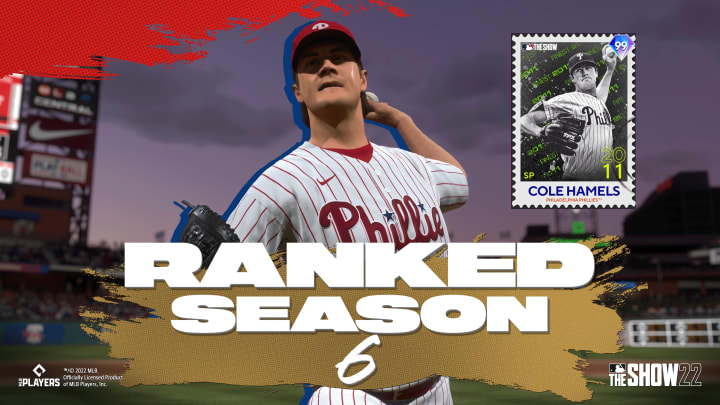 Photo Courtesy of @MLBTheShow on Twitter
Another season of Ranked is around the corner for MLB The Show players. Last season, we saw two 98 overall players as the rewards — Cody Bellinger and Al Leiter.
This season we have two more players that fans are sure to love. So far, as of Monday, only one of the two cards has been revealed. So let's get into it.
MLB The Show 22 Ranked Season 6 Rewards
The first card and, the only officially confirmed card, is 99 overall Retro Finest Cole Hamels. This card comes from Hamels 2011 season. That season, Hamels had a 14-9 record with a 2.79 ERA. He also struck out 194 batters while finishing fifth in Cy Young voting.
Hamels had a great year in 2011 and his MLB The Show card is sure to live up to it. This is the second year in a row that Hamels has had a 99 overall card. His pitch mix should look the same as last year with a Four-Seam, Change-up, Sinker, Sweeping Curve and Cutter.
Now for the next card, we can only speculate. The only information we have is that this player is a two-time MVP and a World Series Champion. The stadium in the background is green meaning that this card may be a Boston Red Sox.
Another theory is that the stadium in the background is actually Polo Grounds. And who has one of the most famous catches in history at that stadium? Yup, Willie Mays. Mays also has the same qualifications. He won two MVPs in 1954 and 1965 and also won one World Series in 1954.