Top Games
MLB The Show 22 The Overhaul: Full List of New Diamonds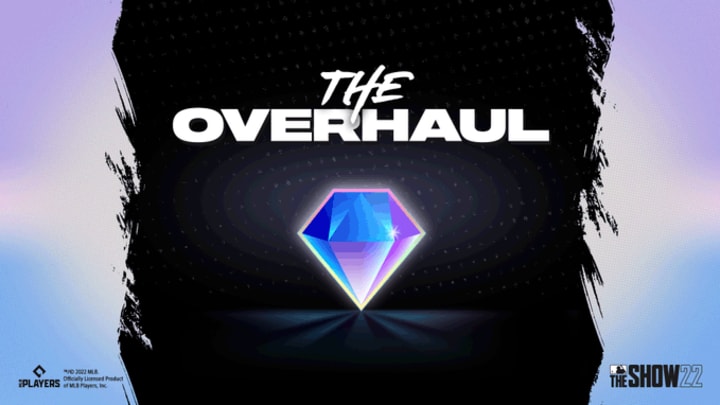 Photo by San Diego Studios
MLB The Show 22 The Overhaul roster update went live July 29 including 370 player upgrades and downgrades, roster transactions and new player attributes for those who have earned it.
San Diego Studios releases roster updates frequently during each MLB The Show Diamond Dynasty cycle. Fans wait curiously each week to see who will get upgraded to diamond, the most coveted rating for Live Series items. The Overhaul isn't centered around solely player upgrades, but also realigning teams and upgrading players in areas they have proven themselves in during the MLB season.
MLB The Show 22 The Overhaul: Full List of New Diamonds
Here's the list of new diamonds in MLB The Show 22:
Julio Rodriguez - CF / Seattle Mariners - 85 Overall
Alejandro Kirk - C / Toronto Blue Jays - 86 Overall
Additionally, the following diamonds received upgrades:
Nico Hoerner - SS / Chicago Cubs - 86 Overall
Vladimir Guerrero Jr. - 1B / Toronto Blue Jays - 87 Overall
Manny Machado - 3B / San Diego Padres - 88 Overall
Kyle Tucker - RF / Houston Astros - 89 Overall
Josh Hader - CP / Milwaukee Brewers - 91 Overall
Aaron Judge - CF / New York Yankees - 94 Overall
Certain players were also highlighted in statistical areas in the game's menus. Those players and their upgrades are as follows:
Michael Harris II - CF / Atlanta Braves - 80 Overall (+30 Arm Strength, +30 Fielding)
Julio Rodriguez (+17 Fielding)
Josh Hader (Gains Outlier on 2-Seam FB)
Alejandro Kirk (+23 Fielding, +23 Blocking)
Dansby Swanson - SS / Atlanta Braves - 84 Overall (+18 Fielding)
This update is meant to refresh and reflect how the first half of the MLB season has played out right before the trade deadline on Aug. 2. The Overhaul is now live alongside the new Tool Box Choice Pack.