Modern Warfare 2 Multiplayer Free Access Period: December 2022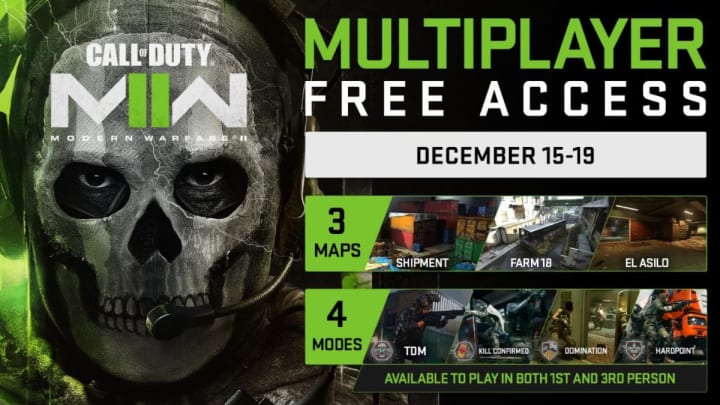 "Fans who haven't tried Modern Warfare II yet can jump into a Multiplayer Free Access period and try a limited portion of the Multiplayer experience." / Activision
Call of Duty: Modern Warfare 2 will have a free access week for its Multiplayer mode from Dec. 15 to Dec. 19, Activision announced Wednesday.
From the newly remastered Shipment map to the all-new Third-Person mode and more, here's a breakdown of the maps and modes players will be able to try out during the upcoming Modern Warfare 2 Multiplayer Free Access period.
The five-day free access period begins Thursday, Dec. 15, at 1 p.m. ET and ends on Monday, Dec. 19, at 1 p.m. ET.
An additional download is required to play.
Being that the idea here is to give players who have yet to buy the game a taste of what MW2 has to offer, the free access period will only include three of the maps and four of the modes. During the Free Access trial, players can also drop into Third-Person versions of Team Deathmatch, Hardpoint, Domination and Kill Confirmed.
MW2 Multiplayer Free Access Maps
MW2 Multiplayer Free Access Modes
Team Deathmatch
Kill Confirmed
Domination
Hardpoint
Players can try out as many of the featured Modern Warfare 2 experiences as they want during the period, and if they decide to purchase the full game, all of their unlocks will carry over as well.
---
For more on Call of Duty, be sure to check out our top five lists:
Additionally, feel free to check out our timeline on the history of the Call of Duty franchise!