Moonshadow Warzone Blueprint: How to Get the M4A1 Blueprint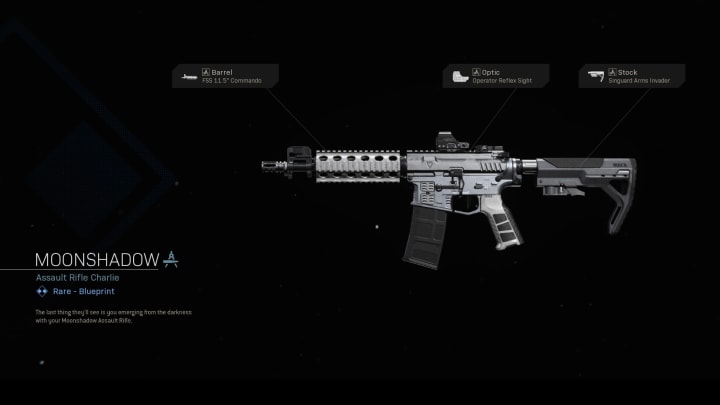 Moonshadow Warzone blueprint is a rare blueprint variety for Assault Rifle Charlie, more commonly known as the popular M4A1. / Photo by Infinity Ward via GamesAtlas
Moonshadow Warzone blueprint is a rare blueprint variety for Assault Rifle Charlie, more commonly known as the popular M4A1.
Weapon blueprints allow players to use weapons and weapon attachments they have not unlocked yet. Players will have the M4A1 unlocked at level 1, so this blueprint might be a good choice if you want a skin for the weapon plus a little initial help unlocking the weapon's attachments.
Moonshadow Warzone Blueprint: How to Get the M4A1 Blueprint
The Moonshadow Warzone Blueprint can be purchased from the COD store for 500 COD points as a part of the Reticent bundle. The bundle also comes with a calling card and emblem and is one of the cheaper bundles available for purchase. This M4A1 weapon variant is a new Season 4 release and is a rare blueprint meaning it comes with three attachments.
Barrel: FSS 11.5" Commando
Optic: Operator Reflex Sight
Stock: Singuard Arms Invader
These attachments don't change a tremendous amount for the weapon, but there are some important differences between this weapon blueprint and the stock M4A1. You'll lose a bit of range and control with this weapon, but gain a lot in mobility, so if your playstyle fits a run and gun style but you want a bit more range than a sub-machine gun, this would be a solid blueprint to pick up.
Check out other popular M4A1 blueprints: