More New Warzone Game Modes Coming in Season 4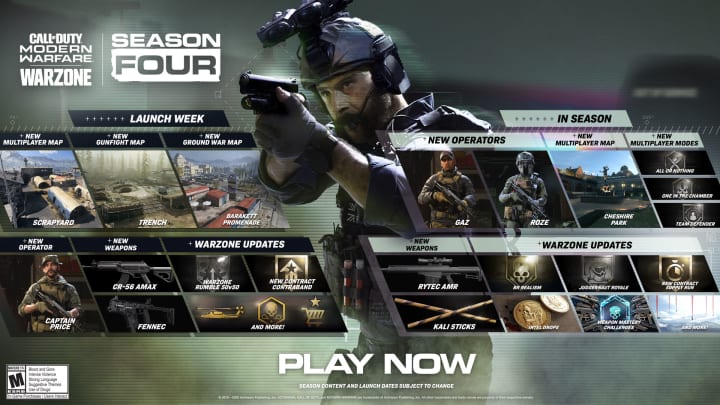 Warzone's Season 4 will bring three new game modes to players with one released at launch and the other two coming later on in the season. / Courtesy of Activision
Warzone's Season 4 will bring three new game modes to players with one released at launch and the other two coming later on in the season.
The first that is live as of writing this is Rumble 50v50, where 100 players will drop into Verdansk in a 50v50 deathmatch. Loot and kill as normal, but now you have a lot more teammates to help you out. Outlast the enemies to end up in a win in this game mode.
New Warzone Game Modes Coming in Season 4
Players will also see Juggernaut Royale and Realism appear as gamemodes along with a new UI to display more gamemodes on the home menu.
Juggernaut Royale will play as normal besides the powerful multiplayer killstreak dropping as a loadout drop at the beginning of the game—three of them to be specific. They'll be marked on the map for all players and once captured, players will have higher health, a mini-gun, take no fall damage while dealing damage to those around you when you hit the ground, all with a special soundtrack to accompany you. Once a Juggernaut is killed, the loadout will become obtainable again at a new location marked on the map.
Realism in Warzone will be just like Realism in Modern Warfare. Players will have a limited HUD and deal increased damage with headshots. This mode will be a lot more intense and will require your focus to be spot on and your shots to count.