Moussa Sissoko FIFA 20: How to Complete the Summer Heat SBC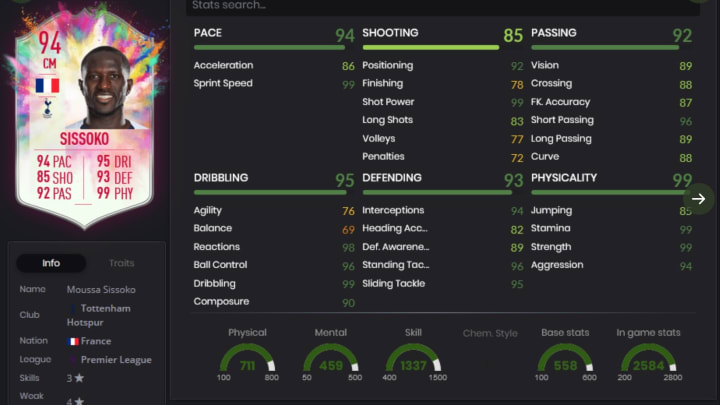 Moussa Sissoko FIFA 20 Summer Heat SBC is now available to be completed. / Image courtesy of FUTBIN
Moussa Sissoko FIFA 20 Summer Heat SBC is now available to be completed.
Summer Heat has apparently replaced the FUTTIES as the end of the year celebration for FIFA 20. As a part of the promotion, old cards are being upgraded and re-released. This SBC was inspired by Sissoko's FUT Birthday card.
Moussa Sissoko FIFA 20: How to Complete the Summer Heat SBC
Here's how to complete the Moussa Sissoko Summer Heat SBC:
Segment One
Min. 1 Player from Spurs
Min. Team Rating: 85
Min. Team Chemistry: 60
REWARD: Prime Electrum Players Pack
Segment Two
Min. 1 Player from Premier League
Min. Team Rating: 86
Min. Team Chemistry: 50
REWARD: Rare Mixed Players Pack
The SBC expires in six days.
This Moussa Sissoko SBC will become the most popular Premier League central midfielder by the end of the week. Sissoko is a FUT cult hero and everyone with French and BPL squads will complete this SBC to link.
Sissoko's stats are absolutely insane, with his 99 Physical being the highlight. He will absolutely boss the entire midfield of any game that he plays in.
Players should check out the other new Summer Heat content, like the Thomas Delaney Summer Heat SBC, the Alexis Sanchez Summer Heat SBC, and the Jose Callejon Summer Heat SBC.