MWII and Warzone 2 Season 3 Roadmap Revealed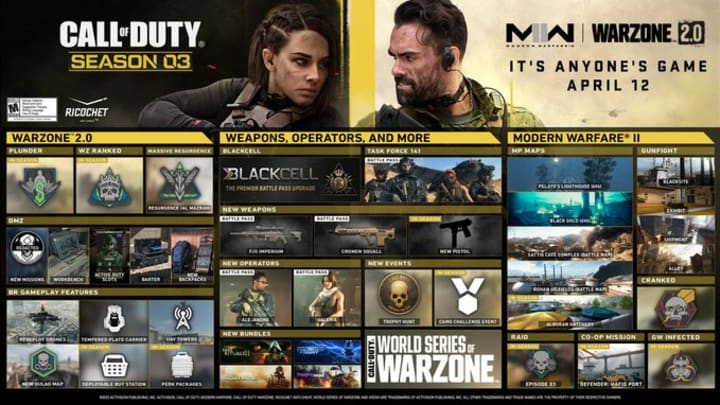 Activision
Call of Duty: Modern Warfare II and Warzone 2 Season 3 roadmap was revealed Apr. 6 ahead of the season going live on Apr. 12.
Season 3 is the next major, free content update set to add new weapons, maps, modes and more. The highlight of the season for many will be the introduction of Warzone Ranked. Now, both premier multiplayer modes in the Call of Duty franchise will have a ranked playlist.
Here's a breakdown of the MWII and Warzone 2 Season 3 roadmap.
MWII and Warzone 2 Season 3 Roadmap Revealed
Warzone 2
Modes
Plunder (in-season)
Warzone Ranked (in-season)
Massive Resurgence (Al Mazrah)
DMZ
New Missions
Workbench
Active Duty Slots
Barter
New Backpacks
BR Gameplay Features
Redeploy Drones
New Gulag Map
Tempered Plate Carrier
UAV Towers
Deployable Buy Station (in-season)
Perk Packages (in-season)
Modern Warfare II
Multiplayer Maps
Pelayo's Lighthouse (6v6)
Black Gold (6v6)
Sattiq Cave Complex (Battle Map)
Rohan Oilfields (Battle Map)
Alboran Hatchery (in-season)
Modes
Gunfight - Blacksite, Exhibit, Shipment, Alley
Cranked
Ground War Infected (inseason)
Co-Op Mission - Defender: Hafid Port (in-season)
Raid Episode 3 (in-season)
New Weapons and Operators
Weapons
FJX Imperium Sniper Rifle
Cronen Squall
New Pistol (in-season)
Operators
There's plenty more coming including new events, the return of the World Series of Warzone, new store bundles and more.
MWII and Warzone 2 Season 3 launches Apr. 12.